Hewlett-Packard shares plunge 13% on turnaround fears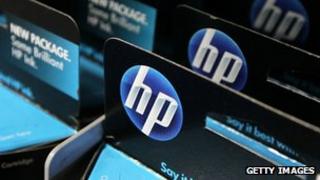 Hewlett-Packard shares plunged to a 10-year low after its boss said it will take time to turn around the company that built its success on printers and computers.
Meg Whitman said revenue for 2013 would decline during what she called a "fix-and-build year."
Traders in New York sent HP shares down 13% to $14.91 in response.
The firm had announced an $8.8bn (£5.5bn) loss for the last quarter and plans to cut some 27,000 jobs by 2014.
Detailing its turnaround strategy, HP said its profit for the fiscal year would be between $3.40 and $3.60 per share, far below analysts' expectations of $4.18 a share.
But by 2016, Ms Whitman expects the company's revenues to be growing in line with US GDP, with "operating profit growing faster than revenues, industry-leading margins and disciplined capital allocation".
In its enterprise division, HP anticipates revenue declines of 11% to 13% in the fiscal year.
The company, like rival Dell, is struggling to offset faltering PC sales with other revenue.
Ms Whitman replaced her predecessor, Leo Apotheker, who was ousted after just 11 months on the job.