Portugal announces higher taxes as strike is called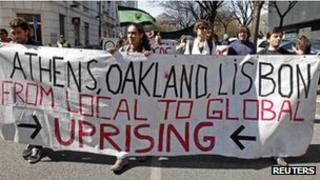 Portugal has announced several new austerity measures, which were met with a call for a huge strike next month.
These include reducing Portugal's income tax brackets from eight to five. This replaces a social security tax rise that was shelved due to its deep unpopularity.
Portugal's largest trade union, the CGTP, called the strike for mid-November to oppose the latest moves.
Portugal must get its deficit below the European Union's target of 3% of GDP.
On Wednesday, Finance Minister Vitor Gaspar also unveiled a 4% "extraordinary" tax.
With the tax bracket changes, the average tax rise should increase from 9.8% in 2012 to 13.2% in 2013.
"The adjustment is harder than we anticipated," Mr Gaspar said, as he also raised the unemployment forecast for 2013 to 16.4% - up slightly from 16%.
It was given one more year to reduce its deficit, after the latest quarterly review by international lenders of the EU, IMF and European Central Bank overseeing its 78bn-euro (£65bn) eurozone bailout.
No extra finance is to be provided beyond the 78bn euros in loan guarantees already agreed for the three-year bailout period.
The CGTP announced its strike for 14 November with the slogan "Against Exploitation and Impoverishment".
As in Spain and Greece, Portugal has seen huge street protests against the austerity cuts that are needed to meet the demands of the bailout.
After huge anti-austerity street protests in September, Portugal decided not to raise social security contributions next year from 11% to 18%, to meet the conditions of Portugal's international bailout.