UK house prices fell in September, Halifax says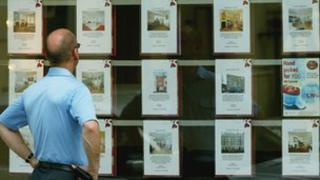 House prices fell for the third month in a row in September according to the Halifax, one of the UK's biggest mortgage lenders.
Its latest monthly survey suggests that average prices dipped by 0.4% last month compared with August.
This latest fall means that the average UK house now costs £159,486, which is 1.2% lower than at the same point a year ago.
The Halifax said the recession was the main reason for the market's doldrums.
"Overall, there has been very little change in the average UK house price so far this year," said Martin Ellis, the Halifax's housing economist.
"There is, nonetheless, evidence of a slight deterioration in the trend recently with prices in the three months to September 0.5% lower than in the previous quarter.
"We expect house prices to be broadly unchanged over the rest of this year and into 2013," he added.
Lending scheme
The recent market survey by the Nationwide building society portrayed a very similar picture.
It said prices were now £159,486 on average and were 1.2% lower than a year ago.
A key feature of the UK property market has not just been the renewed recession, but the entrenched rationing of mortgage lending by banks.
This has been in place since the onset of the credit crunch in 2008 and means that most buyers, especially first-timers, cannot obtain a mortgage unless they have a deposit of 20% to put down.
The Bank of England recently launched a scheme, called Funding for Lending, aimed in part at easing the flow of mortgage funds to the public.
But it will be some months before there is any evidence that this has worked.
Mark Harris, of mortgage broker SPF Private Clients, said: "It would be good to see some data as to exactly who is borrowing what under the scheme, as transparency is something the market lacks.
"However, one lender recently voiced its concern to me about the perceived stigma attached to taking advantage of the funds available, fearing it gives the wrong message to customers that it is in some sort of crisis," he added.
The interactive content on this page requires JavaScript