Halfords names former head of Pets At Home as new boss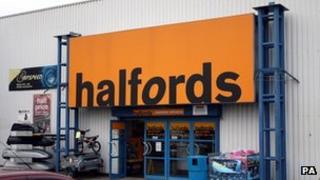 Car parts and bicycle retailer Halfords has appointed the former head of UK retailer Pets At Home as its new chief executive.
Matt Davies will take over from Thursday, when Halfords reveals its latest results.
Previous boss David Wild left in July with immediate effect, and chairman Dennis Millard has been filling in since then.
In May, the company reported a 27% fall in annual profits to £92m.
Following an induction period, Mr Millard will revert to being non-executive chairman, the company said.
"He has many years of retail experience, impeccable service credentials and the energy and ability to drive Halfords forward," Mr Millard said of Mr Davies.
"His determination to put the customer first resonates well with the aims we have for Halfords. He joins us at an opportune time for the company and will drive the execution of the three-pillared strategy laid out to shareholders earlier this year."
Halfords employs about 12,000 staff, and operates more than 460 stores in the UK and Republic of Ireland. It also has more than 260 Halfords Autocentres.
Mr Davies was the head of Pets At Home for eight years until April 2012.
Pets At Home was acquired in 2004 by Bridgepoint and was subsequently sold to private equity firm Kohlberg Kravis Roberts in April 2011 for a £955m, "delivering significant shareholder value", Halfords said.
"I am very excited to be joining Halfords, a group which has a real opportunity to optimise its offer, performance and value to customers and shareholders," Mr Davies said.