What now for Venezuela's economy?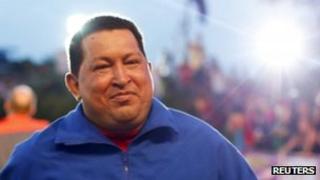 Venezuela's President Hugo Chavez has won his bid for another six years in power. But what can he do to revive the country's struggling economy?
The votes have been counted, the result is clear. On 10 January next year, Mr Chavez will be inaugurated for another term as Venezuela's president.
But his economic strategy is running into trouble. The nation is beset by crumbling infrastructure, an overvalued currency and underperforming industry.
Thanks to Mr Chavez's social programmes, poorer Venezuelans have certainly benefited from the country's oil wealth more than they did under what he has called the rotten elites that used to be in charge.
But the way in which his administration has spent the proceeds of the oil boom has been opaque, to say the least.
Tens of billions of dollars have been channelled into secretive development funds, with little or no accountability.
And there are strong suspicions that much money has been wasted - not just through corruption, but also sheer incompetence.
Ultimately, Mr Chavez still needs to create the conditions that will allow Venezuela's economy to be more than just a one-trick pony.
And in the short term, he should arguably be doing more to make sure that the country's social programmes are being properly and efficiently run.
Are you better off than in 1998?
Since Hugo Chavez became president in 1999, income inequality in Venezuela has been gradually declining, as it has in most of the region.
The country now boasts the fairest income distribution in Latin America, as measured by the Gini coefficient index.
Last year, Venezuela's Gini coefficient fell to 0.39. By way of comparison, Brazil's was 0.52, in itself a historic low.
So every Venezuelan now has a more equal slice of the cake. The trouble is, that cake has not been getting much bigger.
"Venezuela is the fifth largest economy in Latin America, but during the last decade, it's been the worst performer in GDP per capita growth," says Arturo Franco of the Center for International Development at Harvard University.
As Mr Franco says, it depends on how you measure Venezuela's progress.
If you compare life under Mr Chavez with the previous 20 years, under a now discredited two-party system widely blamed for rampant corruption, the Chavez era is preferable.
But if you look at the superior economic performance of neighbouring Brazil and Colombia during the same period, it suddenly doesn't look so rosy.
And given that the price of a barrel of oil is now roughly 10 times what it was when Mr Chavez was first elected, his opponents say that he could and should have done more.
Venezuela's economy: Oil takes the strain
Mr Chavez's failure to diversify Venezuela's economy means that oil is still its mainstay. In fact, it accounts for more than 90% of the country's foreign currency inflows.
About 50% of government revenues come from the petroleum industry, mostly from state company PDVSA.
Mr Chavez's government has been firmly in control of PDVSA since 2003, when it fired 40% of the workforce in the aftermath of a general strike aimed at forcing him from power.
But critics have accused the firm of neglecting maintenance as it funnels oil revenue into government social programmes, especially after an explosion in August at the Amuay refinery, the country's largest, in which 42 people were killed.
Instead of investing in PDVSA to increase production, Mr Chavez has treated it as a cash cow, milking its funds to finance his social spending on housing, healthcare and transport.
Finding out exactly how the oil largesse is dispensed is not easy. But the government has become steadily more involved in every sector of the economy, to the detriment of the private sector.
Occasional scandals surface, such as the discovery in June 2010 of thousands of tonnes of rotting food that had been imported by state retailer Pdval, but never distributed.
More recently, Reuters news agency published a special report into a state corporation, Fonden, that now accounts for one-third of all investment in Venezuela.
It found a string of abandoned or half-built facilities, including a paper factory, an aluminium mill and a fleet of unused buses - all of which apparently received money from Fonden.
Fonden has absorbed $100bn of Venezuela's oil revenues since it was founded in 2005. But Mr Chavez and a group of his closest allies are the sole decision-makers when it comes to spending the cash.
Public spending: Housing boom
In the run-up to the presidential election, Mr Chavez made low-income and social housing a priority, launching a plan to build three million homes by 2018.
During the first quarter of 2012, the construction sector expanded by a whopping 29.9% compared with the same three months of 2011.
That surge continued in the April-to-June period, which showed 17.6% year-on-year growth in construction.
The housing drive has fuelled big increases in public spending - and big expectations among those yet to be housed under the programme.
According to Bank of America-Merrill Lynch, government expenditure has risen 30% in real terms as a result over the past 12 months.
But while the oil and construction sectors drove the overall 5.4% increase in second-quarter GDP, industry barely grew at all and mining actually contracted.
"The current boost to activity is unsustainable," says respected survey organisation Consensus Economics.
"With many state-run companies inefficient and the authorities intent on keeping major industries under public sector control, Venezuela is increasingly reliant on imports.
"In addition, fiscal spending will likely fall back after October and a devaluation of the bolivar is widely expected next year."
Even before the election, Consensus Economics was also expecting "a sizeable slowdown" in 2013.
Borrowing against oil
So how is this "unsustainable" economic boost being financed? Foreign private investors are certainly staying away, frightened by Mr Chavez's nationalisation drive.
High inflation, still nudging 20% a year, doesn't help either.
As Consensus Economics says: "Soaring inflation and government spending - coupled with currency and capital controls - have created a widening fiscal deficit.
"The authorities are increasingly reliant on external debt to finance this."
For "external debt", read loans from China. According to Bloomberg news agency, the state-run China Development Bank has lent Venezuela $42.5bn over the past five years.
Oil Minister Rafael Ramirez said last month that of the 640,000 barrels of oil a day that Venezuela exports to China, 200,000 went towards servicing the country's debt to Beijing.
Unless PDVSA's underperformance can be remedied, those debts will remain and will probably grow as the country's gap between spending and income widens.
The impact for the region
It certainly doesn't seem hard to uncover evidence of waste in government expenditure under Mr Chavez.
But the overspending doesn't stop at home. In an effort to spread the influence of his Bolivarian revolution, Mr Chavez has allowed Cuba and other countries in the region to benefit from cheap deals and soft loans under the Alba and Petrocaribe programmes.
If Mr Capriles had won, he and his team of advisers were preparing to take an axe to that extensive network of petro-diplomacy.
But now most countries in the Caribbean, already suffering from a decline in tourism because of the global economic downturn, will be breathing sighs of relief that Venezuela's economic lifeline will not disappear any time soon.