Easyjet lifts profit forecast after post-Olympics boost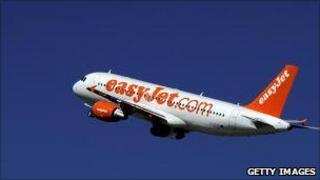 A post-Olympics surge in the number of UK holiday makers heading abroad means Easyjet now expects to report higher-than-expected profits.
The low-cost airline said that it had seen strong demand for flights from London after the Olympic Games.
Easyjet now expects to report profits of £310m-£320m for the year to 30 September, compared with an earlier prediction of £280m-£300m.
It also said disruption at airports during the Olympics had been low.
Easyjet now expects revenue per seat to rise by between 5% and 5.5% in the six months to September, against its previous forecast of "low to mid-single digits".
"Following the end of the Olympic Games, demand from London increased towards the upper end of expectations with the late market and beach routes performing particularly well," the airline said.
Easyjet said that it had managed to absorb an additional £230m in fuel costs this year, and added that its fuel bill for the 2013 financial year was set to rise by £30m-£40m.
The carrier also said that airport costs were set to rise by about £80m next year because of "significantly above-inflation rises in charges at regulated airports in Spain and Italy".