Santander SVR mortgage rise comes into effect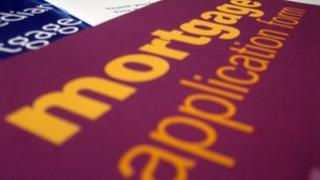 Thousands of mortgage customers at Santander will see their repayments increase as a variable rate change takes effect.
The bank's standard variable rate (SVR) has risen to 4.74% from 4.24%, costing borrowers an extra £26 per month on a £100,000 mortgage.
Meanwhile, separate figures show the continued rationing of mortgage lending.
Only 14% of new mortgage deals are for borrowers with deposits of 10% or less.
According to financial information service Moneyfacts, there were just 69 mortgages available for those offering a 5% deposit at the start of October.
For mortgage customers offering 10%, this choice increases to 296.
However, the options then pick up considerably for those able to put down a bigger deposit.
For example, there are 857 mortgages to choose from for those offering a 25% deposit.
Rising costs
Existing mortgage customers with Santander, who are on its SVR rate, will now see the cost of their mortgage rise under a change that took effect on Wednesday.
This may include homeowners who were on a fixed-rate deal but reverted to the SVR when the original deal ran out.
Santander, which first announced the rise in August, said the change was due to increasing costs of both raising mortgage funds from other lenders and of running a bank.
A number of other lenders, including the Halifax and the Co-op, raised their SVRs earlier in the year.
Housing equity rises
Separately, figures from the Bank of England show that homeowners' collective stake in the value of their homes rose in the second three months of the year.
The "equity" in their homes - the proportion they own outright, compared to the proportion that is mortgaged - rose by another £9.8bn.
Previously this process had been thought to reflect the desire of homeowners to take advantage of ultra-low mortgage rates and pay off their mortgages more quickly than before.
But the Bank has argued that there is in fact little evidence of homeowners doing this.
Instead it has argued that the increase in homeowners' equity, as a proportion of the total value of their homes, simply reflects the low level of housing sales.
Fewer people than before are expanding their mortgage borrowing, either to buy their first homes or to buy their next home and move up the housing ladder.
Meanwhile, existing borrowers continue to pay off their mortgages steadily, with this normal process of repayment outweighing the value of new mortgages that have been taken on.