Tesco's intimations of mortality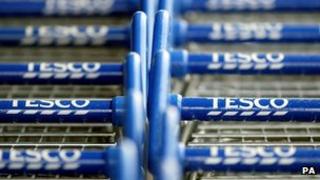 Tesco is paying a big price to fix its UK business. The cost of hiring 8,000 additional staff to provide better service to customers is largely responsible for a fall of 11.6% in pre tax profits, to £1.7bn
There are signs that the investment is paying off, in that underlying sales in British supermarkets grew very slightly in the second three months of the year - having fallen in the previous three months.
What may concern Tesco's shareholders, however, is that figures from Sainsbury's, also published on Wednesday, show that this smaller competitor is continuing to take market share from Tesco - with underlying growth that is stronger than at Tesco.
Tesco can apparently no longer count on its overseas business to compensate for the problems in the UK.
The eurozone crisis has infected its central European stores, US progress has been slower than hoped and new regulations in Korea will hit profits there.
In Tesco's catalogue of mixed news, this excerpt from its statement stood out: "in Korea, the new regulations restricting opening hours for large retailers are having an immediate, unhelpful effect on our performance and are expected to impact our profit performance by around £100m for the year, weighted towards the second half."
Ouch.
More generally Tesco expects global economic conditions to be "very challenging". It is assuming that customers will face "real financial pressures" and that its own businesses will be "bearing the burden of higher costs".
None of which sounds like expectations that happy days will be back at Tesco any time soon. So questions are bound to be asked about whether the decision of the chief executive, Philip Clarke, to take direct control of the all-important UK operation means that the huge international business is not getting the attention it needs.
I asked Mr Clarke whether he was being spread too thinly, when we spoke Wednesday morning. He says international management is top rate.
So if all goes to plan in the UK, and that cannot be taken for granted, when will we see a return to serious profits growth? Probably not until 2014 - which shows the gravity of what needs to be fixed.
The UK's biggest retailer is looking more mortal and vulnerable than in many years.