Pearson: Marjorie Scardino steps down as chief executive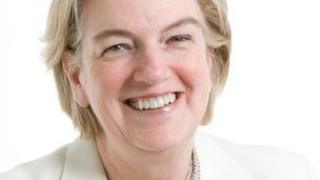 Dame Marjorie Scardino, the first woman to head a FTSE 100 company, is to step down as chief executive of publishing firm Pearson.
She will leave at the end of the year after 16 years at the helm.
Dame Marjorie, 65, will be replaced by John Fallon, who is currently head of Pearson's International Education division.
Pearson, which publishes the Financial Times, said this part of the company was crucial to its growth strategy.
The company said that Dame Marjorie had tripled profits to a record £942m during her tenure. She had also changed it from a diverse company, which owned a range of firms including Madame Tussauds and Thames Television, to "the world's leading learning company".
She said she expected that process to continue after she leaves.
"Though we've changed the company beyond recognition from its form in 1997, we are still in the foothills of the climb to make all kinds of learning more accessible and more effective for more people," she said in a statement.
"I know that John, the board, the senior team and our 40,000 people have the bravery, imagination and decency to lead the company to new ways of achieving these goals, while holding on to the traditions and values that make Pearson unique."
The US-born businesswoman was made a dame in 2003, shortly after taking British citizenship.
Barring further changes, Dame Marjorie's departure will leave just three female chief executives at the UK's 100 biggest quoted companies: Angela Ahrendts at Burberry, Cynthia Carroll at miner Anglo American and Alison Cooper of Imperial Tobacco.
'More brutal'
She was reported to have said that she would sell the Financial Times "over my dead body", but there have been persistent rumours that the group would sell the newspaper.
The incoming chief executive told the Reuters news agency that the FT was "part of the business I value".
However, analysts at investment firm Liberum said that without Dame Marjorie, Pearson would be more likely to sell the financial paper.
"We see John Fallon as having no emotional commitment to the division. We value the FT Group at around £770m," said Ian Whittaker at Liberum.
Steve Liechti, an analyst at brokers Investec, said there was also a question mark over the future of book brand Penguin's place in the Pearson group.
"We question whether Penguin and FT Group fit strategically given Pearson's skew to education. [John] Fallon is not a life-long publisher, so could be more brutal in his strategic direction in time."
Mr Fallon, 50, will join the Pearson board straight away, but he will not take up the top job until 1 January.
Pearson's shares were virtually unchanged at £12.38 after the announcement.