Asian Development Bank cuts growth forecast for Asia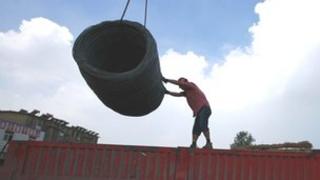 The Asian Development Bank (ADB) has cut its growth forecast for Asia for this year and next, as economic problems in Europe and the US hurt developing countries.
The lender projects that Asia, excluding Japan, will expand by 6.1% this year, down from a July estimate of 6.6%.
It also forecast inflation would be 4.2% rather than 4.4%.
The ADB said countries in Asia must reduce their dependency on exports.
It singled out slowing growth in China and India, two of the biggest economies in the region, as the main driver of the revision.
India's growth is expected to slow to 5.6% this year before bouncing back to 6.7% in 2013.
ADB had previously forecast growth rates of at least 7% for India in 2012 and 2013, but said it had to revise them down due to problems in the agricultural and industrial sectors, as well as weak demand from overseas.
The bank also says that China's growth rate will fall back from the "robust" 9.3% seen in 2011, dropping to 7.7% this year and 8.1% next - still extraordinary rates by international standards.
"Deceleration in the region's two giants, the People's Republic of China and India, and in other major exporting economies is tempering earlier optimism," the ADB said.
"The ongoing sovereign debt crisis in the euro area and the looming fiscal cliff in the US pose major risks to the outlook."
Data out this week supported the ADB's gloomy outlook.
Manufacturing in China showed a contraction for the second month in a row, Japanese industrial companies have become more pessimistic on their prospects and South Korean exports have fallen.