Sainsbury's ordered to change Brand Match adverts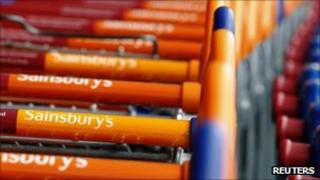 Supermarket group Sainsbury's has been ordered to change its Brand Match campaign by the advertising watchdog, which found it misled consumers over the finer details.
The campaign stated that Sainsbury's would match the prices of rivals Asda and Tesco or give a voucher.
The Advertising Standards Authority (ASA) received 20 complaints, including one from Tesco.
Sainsbury's said it had already changed its advertising.
It also said the campaign had been well-received, with nearly 100 million coupons issued, which it said suggested that shoppers understood the deal from the advertising.
Fine print
Under the campaign, if branded goods were cheaper at Tesco or Asda, the customer would receive a voucher from Sainsbury's.
Some complainants said the ads did not make it clear that any saving was calculated across all of the brands in a shopper's basket or that the offer was only available to those who spent £20 or more.
The ASA also noted that consumers would need to make a further purchase in order to redeem the coupons, which were limited to a value of £10 and had to be redeemed within two weeks.
"We told Sainsbury's to ensure future ads did not imply consumers would not pay more, or would save money, if that was not the case," the ASA said.
"We also told them to ensure all significant conditions of promotions were made clear in future."
Sainsbury's said: "We do not believe that our customers have been misled but we have already changed our current advertising to reflect the concerns raised."
Sainsbury's is the UK's third-largest supermarket, behind Tesco and Asda.