London 2012: Olympic and Paralympic sponsors count benefits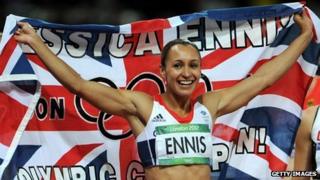 The Paralympic Games closing ceremony may have brought down the curtain on a memorable summer of sport one month ago, but firms that backed it and the Olympic Games say they are feeling a positive afterglow.
Sponsors used the events to boost sales and PR opportunities as well as to reward loyal customers and incentivise their staff.
Indeed Procter & Gamble, worldwide manufacturer of products such as Head and Shoulders, Gillette, Bold, Duracell, Pringles, Wella and Max Factor, is still running television advertisements pegged to the achievements of Olympians which it chose to sponsor.
The firm was an addition to the International Olympic Committee (IOC) roster of international sponsors for London 2012.
'Equity value'
"We were looking for a platform where we could use our scale," says Nathan Homer, P&G's UK and Ireland Olympic projects director.
"The Olympic Games is a fantastic global property, which reaches all 180 markets that we are in. It delivers PR and equity value."
But Mr Homer says that the weeks of competition were in fact "the cherry on the cake", after months of pre-Games preparation to get P&G products into stores well before the Olympic opening ceremony on 27 July.
"It [the Olympics] was a chance to connect our brands - but the challenge was to find a framework in which each brand and each different market could operate," says Mr Homer, speaking at a SportBusiness Group conference in London.
For the first task, the company's many diverse brands were brought together under the Olympic umbrella by using the image of a medallion, with Procter & Gamble written on it, on all of its different products.
As well as being an IOC partner, and supporting Team GB and Paralympics GB, the firm also backed 150 athletes around the world, with the biggest names being used in ad campaigns.
But cleverly, different athletes were used in markets which were local to them.
"The most important insight was that we could market locally by using athletes in 'your' country," says Mr Homer.
And those lessons learned are already being integrated into P&G's current marketing planning for the 2014 Winter Olympics in Sochi, Russia.
'Extremely positive'
Whereas Procter & Gamble is a newcomer to Olympic sponsorship, soft drinks giant Coca-Cola has been involved with the event since the Amsterdam Games in 1928.
This year the firm backed both the Olympic Games - as a member of the IOC top partners programme, and also the Paralympic Games, which it has supported since 1992.
Mark Osikoya is head of Olympic Sponsorship Assets (London 2012) for the Atlanta-based firm.
"Our experiences were extremely positive, in this [UK] market, and for our global colleagues," he says, adding that colleagues from Brazil and Russia were in London during the summer to observe ahead of Sochi 2014 and Rio 2016.
As well as seeing a huge sales boost, serving 17 million servings of its drinks during the summer across all different London Games' venues, it also ran campaigns - many connected to music - to encourage youngsters to take up more sport.
And another campaign, around its torch-relay sponsorship, was designed " to shine a light on the best of British youth".
"We were trying to highlight young people in communities across Great Britain," says Mr Osikoya. "People who were doing positive things in their communities, and making a positive difference."
In addition, a recycling campaign also saw Coke recycle 10.5 million plastic bottles used at the London 2012 Olympic and Paralympic Games, with most back on shelves within six weeks.
Meanwhile, Tony White - head of learning for distribution arm Coca-Cola Enterprises, told a Harvard Business seminar in London that the summer Games were a great stimulant in the use of social media within his firm, which was then used in bringing staff closer together and in encouraging performance.
'Real privilege'
Oil giant BP was another firm which backed both the Olympic Games and Paralympic Games.
"To be one of the companies fortunate enough to be at the heart of it was a real privilege," says Mike Sharrock, partnership director at BP.
"We came back from Beijing [in 2008] and said we were going to do this [sponsorship] across the Olympics and Paralympics."
The firm fuelled 5,000 official vehicles during the summer, and established schemes for sports fans to offset their carbon footprint from travelling to Olympic events and to support youngsters from disadvantaged communities.
In addition it backed a number of UK athletes taking part in the Olympics and Paralympics.
"As a London partner we were able to leverage things we were doing here.... in other countries," Mr Sharrock adds.
The firm negotiated partnerships with Olympic teams in nine other countries including the US, Angola, Trinidad, Azerbaijan, UEA and Egypt.
Mr Sharrock said that despite cynics claiming the US deal was signed to smooth relations there in the wake of the Deepwater Horizon rig disaster, the partnership had been signed before that spill off the coast of Louisiana.
And he says that rather than now suffering a London 2012 withdrawal, BP had "grown through the experience".
But Nikki Crumpton, executive planning director at McCann Worldwide, a London 2012 sponsor and marketing provider, acknowledges there has been a bit of hangover effect at her firm.
However she is proud of McCann's role in putting together the London 2012 volunteering programme and coining the phrase "Games Makers" for the army of purple-clad helpers.
Ms Crumpton says: "For any Olympic Games or Paralympic Games the volunteers are absolutely critical - we were trying to inspire a new generation of volunteers."