Sold JJB Sports stores inundated with shoppers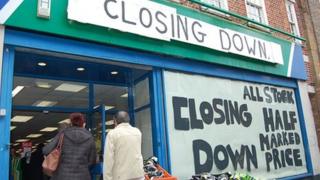 Shoppers have been descending on stores of the collapsed JJB Sports chain that have been sold to rival Sports Direct.
Sports Direct bought all the remaining stock from JJB and is now shipping it to the 20 shops it has bought.
Those shops are likely to continue trading until the stock has been sold before they close to be rebranded as Sports Direct.
The 133 stores that were not included in the sale have all been closed with the loss of about 2,200 jobs.
The final demise of JJB Sports was announced on Monday, when administrators KPMG said the partial sale of the business had saved 550 jobs.
Many more of the shops ended up being sold by the administrators than had been expected.
Considerable early interest in buying the stores did not turn into actual sales, the administrators said.
A sign at the till at the Dorchester branch said: "Due to unforeseen circumstances, we are unable to refund or exchange items and we cannot accept JJB gift vouchers."
A spokesperson for Sports Direct said: "The stock that we bought from the administrators will be sold primarily through these 20 stores with heavy discounts."
The retailer was not able to confirm for how long they would be staying open before rebranding.
Joan Lawrence from Clacton-on-Sea, Essex, who was shopping at the Dorchester branch, said: "I can't believe all the shops that are closing down these days - it's really bad."
"If people weren't spending their money in JJB, what makes anyone think they'll spend it in Sports Direct?"
A member of staff at the Dorchester branch confirmed that all the staff would be keeping their jobs when the shop was rebranded.
Late on Monday, police were called to the Londonderry branch to deal with the large crowd trying to get into the shop.
A 29-year-old-man was cautioned by police for disorderly behaviour.
Staff at the Leamington Spa branch were already wearing Sports Direct branded shirts.