FirstGroup confident on West Coast Main Line challenge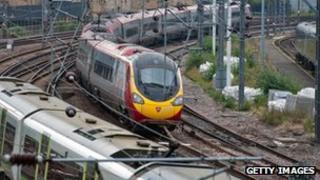 The transport company FirstGroup says it is preparing to take over the West Coast Main Line on 9 December, despite a legal challenge from Virgin Rail.
"We have every confidence in the Department for Transport's process which is rigorous, detailed and fair and in which bids are thoroughly tested," the company said.
It said it was focusing on a smooth transition for staff and passengers.
The comments came with FirstGroup's six-month trading update.
The company said that trading had been in line with its expectations, "despite continued economic uncertainty".
Its half year results will be released on 7 November.
Ministers had been expected to sign the franchise deal with FirstGroup last month, but that has been delayed by Virgin Rail's legal challenge.
Virgin Rail is a joint venture between Stagecoach and Virgin Group.
Transport Secretary Patrick McLoughlin has said that contingency plans are in place if the legal challenge cannot be resolved by the time Virgin's franchise comes to an end on 9 December.
The running of the line would be taken over by Directly Operated Railways - a state-run company that took over running the East Coast Main Line in 2009 after franchisee National Express ran into problems.
The transport secretary said this would "ensure the continuity of service".