Kingfisher Airline to pay salary dues 'soon'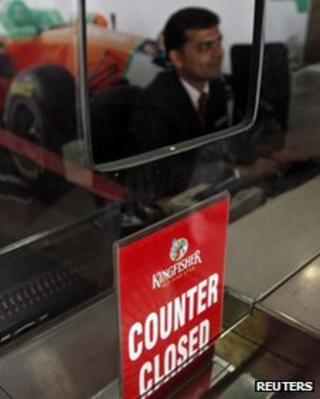 India's Kingfisher Airlines has told the aviation regulator that it will pay staff salaries, held up for the last six months, in the next few days.
The airline's chief executive Sanjay Aggarwal said they would decide on Thursday whether to resume flights.
On Monday, Kingfisher suspended flights for three days after a strike by workers raised safety concerns.
The airline cited incidents including violence, criminal intimidation and refraining from attending work.
It declared a partial lock-out until 4 October.
The government said the airline could not fly until its planes were certified safe after the strike.
"We have shared the steps which we are going to take in the next few days with the Director General of Civil Aviation (DGCA). We have explained our position to DGCA," Press Trust of India quoted Mr Aggarwal as saying after the meeting on Tuesday.
"We will clear the pending salaries in the next few days. I myself haven't got the salary," he added.
Kingfisher was in talks with "a couple of airlines" for investment and hoped that talks would conclude "in two-three months", DGCA Arun Mishra told reporters after the meeting.
Reports said the airline told the regulator that they would resume operations from Friday.
'Illegal acts'
Kingfisher, owned by Vijay Mallya, was hit by a strike in July - the airline was forced to cancel 40 flights when workers refused to work saying they had not been paid for months.
In the latest incident, lack of pay was again cited as the reason for a strike that began on Friday and which more workers joined on Monday.
The company said in a statement on Monday that "illegal acts" had been committed by a "small section of recalcitrant employees which were all unnecessary and unprovoked".
It added that the majority of staff were willing to continue operations but had not been able to report to work because of acts of criminal intimidation.
It said it would take disciplinary action against some employees.
'Cash crunch'
The airline has been struggling with a cash shortage and has reported losses for five years in a row.
Analysts said this week's disruption and safety concerns would hurt Mr Mallya's efforts to win the investment needed to save the airline from collapse.
Mr Mallya had said discussions were ongoing for overseas carriers to potentially take a stake in the airline.
It came after the government relaxed investment rules, allowing foreign airlines to buy as much as 49% of domestic airline operators in India.
Mr Mallya is also in discussion to sell a stake in United Spirits, an Indian distiller, to global drinks giant Diageo in an attempt to generate cash.