Global airline profit forecast raised by Iata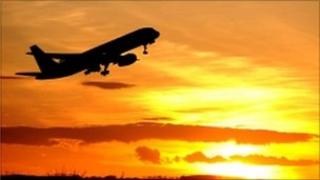 The International Air Transport Association (Iata) has raised its profits forecast for global airlines in 2012 by a third to $4.1bn (£2.5bn), due to efficiencies and consolidation.
This is still well below the $8.4bn in profits airlines made last year.
But the body said profits remained "on a knife-edge" as margins remained low.
Next year, a stronger global economy, higher passenger numbers and lower fuel costs would help drive profits back up to $7.5bn, Iata predicted.
"The industry has re-shaped itself to cope by investing in new fleets, adopting more efficient processes, carefully managing capacity and consolidating," said Tony Tyler, Iata's director general.
"But despite these efforts, the industry's profitability still balances on a knife-edge, with profit margins that do not cover the cost of capital."
Margins were likely to be 0.6% this year, before rising to 1.1% in 2013, Iata forecast.
Asia-Pacific airlines were on course to make $2.3bn, while North American carriers were set to report profits of $1.9bn, it added.
European airlines, hit particularly hard by the continuing debt crisis, were in line to make a loss of $1.2bn.
Iata represents 240 airlines accounting for more than 80% of global traffic.