Fuel theft disputes rock Mexico
By Will Grant
BBC News, Mexico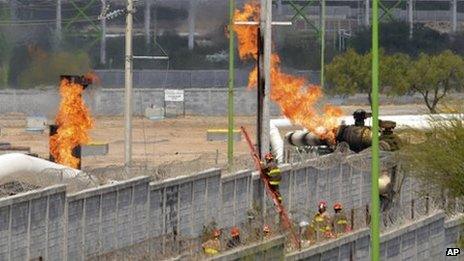 Jaime Medel Galindo lost more than anyone in one of the worst incidents in the history of Mexico's energy industry, during Christmas 2010.
Ten members of his family - his wife, four children and five grandchildren - were killed.
Trapped inside their home and asphyxiated by smoke, they were among 28 people who died when a massive fireball rocked the city of San Martin Texmelucan, in the east of the country.
A punctured oil pipeline sent a river of crude oil running through the streets, which then caught fire forcing residents to flee for their lives in the middle of the night.
The tragic events of that December were brought back into sharp focus late last month as another huge explosion rocked Mexico's state-run energy company, Pemex.
This time, 30 people were killed in the blast, inside a natural gas storage facility in Reynosa in the northern state of Tamaulipas.
But Pemex has been quick to suggest the two blazes were very different.
In Reynosa, an investigation into the fire is still under way, but according to the company's president, Juan Jose Suarez, it was an "unusual accident" caused by a build-up of gas.
Not so in San Martin Texmelucan.
On that occasion, Pemex blamed the inferno on fuel thieves linked to the country's powerful drug cartels.
The theft and smuggling of oil and oil derivatives is a lucrative industry, according to Raul Monteforte, development director for the private Mexican transportation pipeline company Fermaca, and a former regulator for Mexico's pipelines.
Mr Monteforte says the illegal industry grew by 30-50% in 2011 and is now worth $1bn (£620m) a year.
But in addition to being lucrative, "fuel theft is an extremely dangerous activity", he says.
"You are dealing with completely unregulated extraction of very hazardous substances.
"Normally it takes place at night when the gangs face less risk from the authorities."
The criminals carry out what's known as "hot-tapping", a process in which they drill into a pipeline that carries high-grade fuels that have significant value on the black market.
"Essentially [they target] premium petrol, diesel, regular petrol, jet fuel and - on a lesser scale - crude oil."
Mr Monteforte says the thieves appear to operate with insider knowledge.
"Often these people know exactly when the higher grade products will be pumped from the origination point," he says.
"The thieves install pretty advanced equipment - valves and T-flanges - so their extraction point becomes almost a lateral of the pipeline. And, of course, they have transportation readily available."
With powerful drug cartels, such as Los Zetas and the Gulf Cartel, running the illegal operations, the obvious destination for the stolen fuels is the United States.
Pemex has brought a lawsuit against several major energy companies, among them Shell and ConocoPhillips, for allegedly purchasing $300m worth of stolen fuel in Texas.
It says the US-based companies had created a demand for illegal fuel.
Joel Androphy from Berg & Androphy, the lawyes for one of the plaintiff firms, Murphy Energy, puts the blame squarely back on Pemex's shoulders.
"We're not responsible for fuel theft in Mexico, we're not responsible for corruption", he says.
The firms were never told that the goods had been stolen, he says.
"Pemex should have notified Mexican customs, US customs and their main corporate clientele [of the theft]. This stuff got through US customs.
"Pemex are blaming US companies with deep pockets for failing to protect their own natural resources.
"This is an internal [Pemex] problem, not an external one."
But for Flavio Ruiz, an adviser to the Mexican energy giant, Pemex is a "victim" rather than a culprit when it comes to bootlegged hydrocarbons.
"This is part of the wider issue of organised crime, and Pemex simply doesn't have the facilities to chase down these criminals," says Mr Ruiz.
"What the company has done is invest in a faster detection system, which has been working well. The number of attacks may have gone up, but the company's losses have been reduced."
Mr Monteforte agrees that Pemex has also tried to get its house in order by purging officials who might have been involved in the illegal practice.
But there are still other technical options that Pemex could employ, he says, including special chemical dyes to mark its supplies.
Others have called for improved security at Pemex installations and the use of sophisticated global positioning systems (GPS) for its fuel fleets.
But most of these options are expensive and the company is currently suffering a severe cash-flow crisis.
So much so, the former president of the Mexican Senate's Energy Commission, Francisco Labastida, recently said Pemex owed $15bn more than its shares were worth - a figure rejected by Pemex itself.
As the second anniversary of the explosion at San Martin Texmelucan approaches, the tragedy will be remembered with eulogies from Mexico's leaders.
But Mr Medel still finds it hard to talk about that night, his neighbour, Oscar Quiroz, says.
The people of San Martin Texmelucan are not much interested in the quick profits made by Los Zetas, Mr Quiroz says, nor in the complex legal arguments over multinationals and stolen fuel in Texas.
All they know is that they paid a high price for readily available cheap fuel in Mexico.
Related Internet Links
The BBC is not responsible for the content of external sites.