Will carmaker alliances result in identikit cars?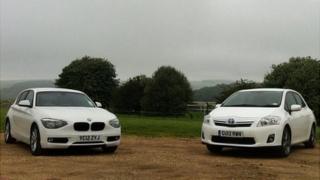 BMW, Nissan, Daimler, Toyota, Renault. Five independent automotive companies, each with their own image, and each with their own glitzy stand at the Paris motor show.
All five companies own additional car brands - Rolls-Royce, Mini, Infiniti, Mercedes, Smart, Lexus, Dacia and Lada - as well as a number of commercial vehicles.
It is an extensive line-up; one that suggests each of the more-than-a-dozen marques operates in a fiercely competitive environment.
In reality, however, there are just two automotive alliances in charge of them all.
Hence, rather than compete head-on, many of the marques have been designed to be different; to complement each other, with each appealing to a different type of customer.
To help them carve up the market between them, the different marques will generally look and feel very different to the consumer, even though in many cases much of the stuff under the bonnet is the same.
Deeper and broader
Carmakers have been sharing parts for decades, whether selling components to each other or using the same component suppliers.
But today's partnerships are both deeper and broader, often involving cross-ownership structures between manufacturers and close co-operation in areas such as research and development.
It all started some 13 years ago, when Carlos Ghosn became the chief executive of two car companies at the same time, Renault and Nissan.
Rather than merge the two, Mr Ghosn came up with a structure where they merely own shares in each other, so they continue to operate as autonomous entities.
It is a corporate structure that is subtly different from that of, say, Volkswagen Group, whose brands range from Skoda and Seat to Audi and Bentley. Here, the various Volkswagen marques curb cost by sharing many parts within the group.
By contrast, Renault and Nissan only work together when it makes sense for both of them, and they will often keep things secret from each other.
'Broad, strategic co-operation'
Over the years, Mr Ghosn's strategy proved successful, so two-and-a-half years ago Daimler's chief executive Dieter Zetsche agreed to join forces with the Renault-Nissan alliance. The partnership has grown much deeper since.
Last year, a platform and engine sharing agreement was announced during a joint briefing with Mr Ghosn and Mr Zetsche.
At this year's briefing, the message is one of an increasingly close partnership.
"The co-operation goes well beyond individual projects," Mr Ghosn says. "It's becoming a broad, strategic co-operation."
Mr Zetsche agrees. "Over time, we have built so much trust, we're working hand in glove," he says. "The Carlos and Dieter show will go on."
Mutual benefits
A similar co-operation agreement between BMW and Toyota, which includes joined up advanced engineering work and the supply of BMW diesel engines to some Toyota models, has also been extended since it was first signed late last year.
The two companies have since agreed to also work together on petrol-electric hybrid solutions and hydrogen fuel cells technology, where Toyota seems to offer much strength, while BMW's skills at making cars more exciting and dynamic to drive appeals to Toyota, Mitsuhisa Kato, Toyota board member in charge of the carmaker's product planning group, tells BBC News.
The partnership helps each company get access to skills and technologies in areas where the other might be stronger, so it is essentially about identifying areas where they can help each other.
"There are good synergies between the two companies," adds Ian Robertson, member of BMW's board of management.
"We are going to build on that as we move into the future," he tells BBC News.
Collaborative relationships may seem sensible, but it is often difficult to make them work - especially within a dog-eat-dog environment such as the motor industry.
The first step should be picking a partner that is not a direct rival, according to Mr Ghosn.
"We are not competing with each other," he says, referring to how Renault-Nissan and Mercedes tend to attract very different people as customers. "That's the main reason why it works." The same is largely true with BMW and Toyota, which rarely overlap in the market place.
Happy together
Another reason why partnerships sometimes turn sour is that one of the partners tries to dominate the other. That is what happened last year after Volkswagen described Suzuki as an "associate". Suzuki felt the term was symptomatic of a domineering and haughty attitude by its supposedly equal partner, so responded in anger.
Daimler's 1998 merger with Chrysler also collapsed in 2007, amid much disgruntlement in Detroit about the-then chief executive Juergen Schrempp's domineering attitude that gave the impression that Chrysler had been an acquisition for the German group.
Mr Zetsche was the chief executive of Chrysler at the time, before taking over from Schrempp at the helm of DaimlerChrysler, only to oversee the break-up of the company. It appears he learnt some important lessons from the fallout.
"Without referring to our own corporate history," Mr Zetsche grins, "perhaps we are so happy together [with Renault-Nissan] because we're not having a merger."
Extending partnerships to their logical conclusions, namely mergers, can at times be detrimental rather than beneficial, Mr Ghosn agrees.
"You can be happy with a flirt, without being happy with a marriage," he says. "Dieter has his autonomy. I have mine."
Common projects
Alliances between carmakers can do more than just improve the businesses of already successful companies; they also have the potential of helping both partners get through difficult periods.
That is the hope behind an alliance between PSA Peugeot Citroen and General Motors entered into early this year. The two carmakers hope will help cut costs in their struggling European divisions, while at the same time raise quality.
"Our strategy is to raise PSA Peugeot Citroen upmarket," says chief executive Philip Varin in an interview with BBC News, insisting that working together with GM's subsidiary Opel, with both joint purchasing agreements and shared platforms, components and modules, will help it achieve its goal.
"We will announce some common projects by the end of October," he says.
As alliances continue to spread through the industry, consumers may well benefit from the survival of a broad range of automotive marques.
But whether they are offered real choice between cars that are actually significantly different under the skin is another matter altogether.