Concerns over new holiday rights' certificate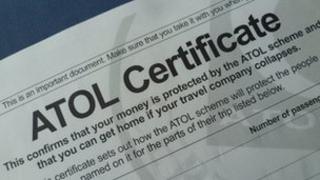 Some travel agents will not be ready for a new scheme that clarifies holidaymakers' rights if a tour operator collapses, organisers say.
Travellers booking flights and holidays will be given new certificates from Monday.
The Atol certificate scheme will make it clear which elements of a holiday are protected, and make refunds easier.
The Civil Aviation Authority (CAA) says the protection still stands even if certificates are not ready.
But the consumer organisation Which? is advising consumers not to book holidays with agents or websites that cannot provide certificates.
'Traumatised'
The new system stems from changes in the way people book their holidays.
Twenty years ago most holidays were sold as packages, which included travel and hotel costs within the total price.
These days, many more people book different elements of their holiday online, maybe choosing a flight separately to their accommodation.
But many book both via the same website.
Until changes in the industry this April, some holidaymakers found the cost of a flight might be protected if a provider went bust, but the accommodation was not covered.
Laura de Miguel Seco, a mortgage adviser from north London, found that out the hard way.
Having booked a holiday to Rhodes in 2010, not just one, but two flight providers went bust. While she was able to get her money back on the flights, she found out that her hotel rooms were not protected.
"I was left traumatised," she said. "We thought it was going to be a very nice cheap holiday. It turned out to be the most expensive and unhappy holiday ever."
She ended up paying more than £1,000 extra to get to Greece so she could make use of the accommodation.
"It was really, really stressful. I was in tears when the second company went down," she said.
New rules
As a result of many hundreds of similar stories, the travel industry made an effort to make sure that all the different elements of a holiday package are protected, even if those elements are booked on consecutive days.
New rules were brought in to that effect in April this year.
And from Monday, travellers will also be given an Atol certificate, to show them in black and white what is covered, and what is not.
The idea is that customers will be handed the form in person if they book via a travel agent, or it will be emailed to them if they book online.
If part of the holiday is not covered, the buyer would then have the opportunity to take out separate insurance, or otherwise rely on section 75 of the Consumer Credit Act. This enables people to claim back money from their credit card company, should things go wrong.
'Considerable confusion'
One problem with the Atol scheme is that not all travel agents or websites are ready for the changes.
Whereas the big tour operators have been aware of the changes for months, and have changed their IT systems accordingly, many of the smaller ones have not.
"There are still a lot of companies who have got a lot of work to do," said Alan Bowen, from the Association of Atol Companies.
"I am not sure that everyone who goes into a travel agent on Monday is going to get an Atol certificate.
"There is still considerable confusion within the industry as to what will happen on Monday."
As a result of the uncertainty, Which? is advising people not to pay for holidays unless they are given a certificate at the same time.
"We would advise consumers not to book through a travel agent who is unable to issue an Atol certificate," said a Which? spokesman.
The CAA, which organises the scheme, admitted there would be some problems over the next week or two.
"Some smaller firms will have difficulty in issuing the certificates straight away," said David Clover, of the CAA.
But he said that as long as customers knew that their holidays were protected by the Atol scheme, they should not be worried.
"The key thing is to make sure that consumers get a document that provides them with details of what is Atol protected," he said.