UK service sector bounces back in July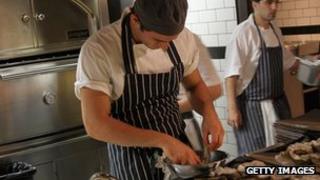 Official data showed the UK service sector bounced back in July, raising hopes of an economic recovery in the third quarter of this year.
The Office for National Statistics (ONS) said that services output, covering a range of sectors from retail to finance, rose 1.1% on the month.
However, this followed a decline of 1.5% in June which was affected by the extra Diamond Jubilee bank holiday.
The service sector accounts for about 75% of UK economic output (GDP).
Its performance is an important guide to the direction of the overall economy.
All the main areas registered increases in activity in July, with the category covering retail, hotels and restaurants showing the biggest rise of 1.8%.
Business services and finance output was up 1.2%.
Positive
The increase was predictable after the disruption to activity in June caused by the Jubilee celebrations.
There was an extra bank holiday for the Jubilee and the usual late May holiday was shifted to June.
A bounceback had been expected but the underlying trend for the services sector is positive, with activity increasing by 0.1% over the three months to July compared with the previous three months.
Output is also up on the same period a year earlier.
The positive data from the services industries follow the upwards revision to the GDP figure for the second quarter.
An initial estimate of a decline of 0.7% has been revised to 0.4%, with the decline in construction not as bad as first feared.
The July services figures give weight to the argument that GDP will rebound in the third quarter of this year.
Some economists now expect growth between July and September to outweigh the loss of output in the second quarter.
Flat growth
The Olympics effect, with ticket sales included in the third quarter GDP figures, is expected to help, as well as the postponement of output lost during the bank holidays.
Daniel Solomon, an economist at the Centre for Economics and Business Research, said that the UK's economy would end this year smaller than it began it: "The UK could soon exit technical recession.
"This is welcome news, but it is hardly cause for unbridled jubilation. We predict roughly flat growth over the third quarter of the year and a 0.6% fall in GDP over the year as a whole."
Chris Williamson, chief economist at Markit, said the end of the recession was in sight, but the economy still faced challenges: "It remains too early to tell whether the upturn will prove temporary or not.
"Certainly given the ongoing cuts to public spending, the dark cloud of uncertainty that hangs over business investment due to the eurozone crisis and the fragility of global economic growth, it seems likely that the underlying pace of growth will be modest at best."