Spain to unveil banks' shortfall with stress tests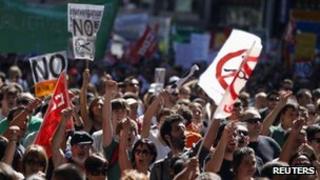 Spain is poised to unveil just how much money its banks will need as the government seeks to avoid a full-blown bailout.
The so-called stress tests due on Friday will show how much in toxic property is held by 14 of its banks.
Spain in July requested a loan of up to 100bn euros ($125bn; £80bn) just for its banks.
It set out its austerity budget on Thursday, which comes after many of its regions requested their own bailouts.
The budget, which came against a backdrop of violent protests, spelled out new spending cuts but protected pensions.
Spain is struggling with a shrinking economy and 25% unemployment.
The government is still hoping to avoid requesting a bailout from the eurozone rescue funds, the current EFSF and the future ESM, but many think this is inevitable.
"Without any weakening of the link between Spain's banking woes and its overstretched sovereign finance, the pressure on Spain to accept a broader EFSF/ESM package will prove irresistible," said Michael Symonds, a credit analyst at Daiwa Capital.
'Hard work begins'
European markets turned lower on Friday. Stocks in Madrid dropped 1.1% while France and Germany also had declines in their benchmark indexes.
The implied cost of Spain to borrow for 10 years rose briefly over 6%. Earlier this summer, Spanish 10-year bonds were yielding 7% - a level considered unsustainable in the long-term.
An independent stress test was part of the conditions of Spain's July bank bailout and has been conducted by the Oliver Wyman management consultancy.
Wyman has previously suggested that Spanish banks will need about 60bn euros, which the Spanish economy minister also corroborated.
Once the tests are concluded, the most toxic assets will be taken off their balance sheets and placed in a state-run so-called bad bank.
The results of the stress tests will be released after the market is closed.
"We already know that the total recapitalisation requirement is likely to come in at approximately 60bn euros, within the 51-62bn euros range determined by the top-down assessment in June, and that the weakest Spanish banks - already under government control - will account for the bulk of the overall shortfall," Mr Symonds said.
"Now the hard work begins. Over the coming months, restructuring plans will need to be finished off and approved, the architecture of the bad bank finalised, and the delicate task of haircutting subordinated creditors - many of which are retail investors - carried out."
At the press conference to present the new budget, Economy Minister Luis de Guindos said the government was still analysing the conditions of the bailout, which would trigger purchases of Spanish government debt by the European Central Bank.
The economic situation remains grim, with comments from the central bank on Wednesday indicating that the country's recession deepened in the last three months.