Japan's industrial output slips as demand remains subdued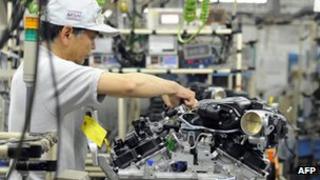 Japan's industrial output fell more than expected in August, as cars and electronics suffered from weak global demand.
Output fell by 1.3% from the previous month, and by 4.3% compared to a year earlier, official data showed. Analysts were expecting a 0.4% drop.
The fall in industrial output in July was revised down to 1.0%.
Analysts said the drop in exports to China was most worrying. China is Japan's biggest export market.
"The numbers turned out quite weak," said Takeshi Minami from the Norinchukin Research Institute in Tokyo.
"Demand for products like electronic components seems to be slowing globally, but notably in China."
Mr Minami said an ongoing territorial dispute with China over islands is the East China Sea was also a cause for concern going forward.
Many Japanese companies have been the target of anti-Japanese sentiment in the country.
"Given troubled ties between Japan and China, the environment surrounding exports to China could become even tougher," Mr Minami said.
The main contributors to the drop in output were electronic parts and devices, information and communication electronics equipment and chemicals, said the Ministry of Economy, Trade and Industry.