Greek government in 'basic agreement' on cuts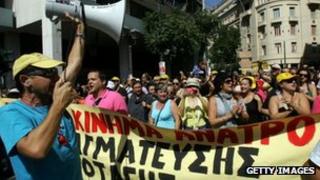 Greek finance minister Yannis Stournaras says the three parties in the country's governing coalition have reached a "basic agreement" on the austerity package for 2013-14.
The measures are likely to be presented to Greece's international lenders on Monday before going before parliament.
The cuts are necessary if Greece is to continue receiving bailout funds.
Earlier, Greece announced plans to sell most of its 34% stake in the gaming monopoly Opap.
Mr Stournaras said there were "very few details left to work out" on the austerity package.
The deal comes the day after 50,000 anti-austerity protesters took to the streets of Athens.
The spending cuts are reported to be worth at least 11.5bn euros ($14.8bn; £9.1bn) and are a condition for Greece to receive the next 31bn-euro instalment of its international loans.
The Greek government hopes to be able to present a final package of measures to the summit of eurozone finance ministers on 8 October.