Card fraud rises as con-artists use old tricks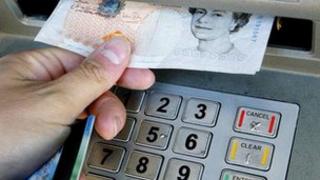 Debit and credit card fraud has increased as con-artists turn to unsophisticated snatching and Pin theft, an industry body has said.
Total losses on UK cards hit £185m in the first six months of the year, a 9% rise on first half of 2011, the UK Cards Association said.
Fraudsters distract consumers in shops and at cash machines to steal cards.
Another scam involves tricking cardholders out of their Pin by calling in the guise of their bank.
The fraud starts with the victim, often an older person, receiving an unsolicited call from someone claiming to be from their bank and suggesting their card needs replacing.
The caller often suggests the person should hang up and call the bank back to ensure the call is genuine. However, by giving a bogus number or staying on the line, the fraudster can then pretend to be from the bank.
The caller will then ask the victim to key in their Pin, before sending a courier to collect the card, which is then delivered straight to the fraudster who now has the Pin.
"This increase is due to organised criminal gangs committing straightforward frauds," said Det Ch Insp David Carter, of the Dedicated Cheque and Plastic Crime Unit, which is funded by the banking industry.
"Given this rise in old-fashioned crimes - criminals using distraction techniques and duping people into disclosing their passwords and online banking details - we are urging everyone to be on their guard and work with us to help stop this criminal activity.
"Your bank or the police will never cold-call you or email you and ask you for your full login details, cards or Pins. If anyone does, hang up the phone or delete the email."
Victims of scams such as these are refunded losses by the card provider, unless they are playing an active, knowing part in the scam.