Complaints about banks up 59%, says FSA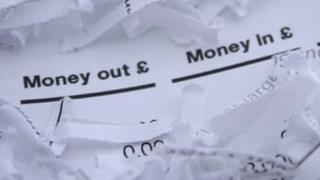 Complaints about payment protection insurance (PPI) drove up gripes about banks in the first half of the year, the UK regulator has said.
Complaints rose by 59% compared with the second half of 2011 to 3.58 million, the Financial Services Authority (FSA) said.
It implies financial institutions faced an average of 19,550 complaints a day.
Complaints about PPI, which has suffered a mis-selling scandal, accounted for 62% of the total figure.
Justified concerns
Payment protection insurance is supposed to cover borrowers' loan repayments if they fall ill, die, or lose their jobs.
But mis-selling of the insurance led to new rules on how cases should be dealt with, and also created an extra compensation bill running into billions of pounds for the banks which set up who departments to deal with the fallout. Lloyds Banking Group employs 1,000 people for this job.
Complaints are coming via claims management companies, advertising on television and in the newspapers, prompting some concerns over bogus claims.
However, about two-thirds of all PPI complaints have been upheld, the FSA figures show.
A total of £2.9bn in compensation was paid out for insurance products, including PPI, with redress of £3.2bn paid overall in the first six months of the year.
"PPI is now the biggest financial scandal of all time," said Peter Vicary-Smith, chief executive of consumer group Which?, raising concerns that banks might not have assigned enough funds to dealing with complaints.
"The banks must set aside more money for PPI claims and make it easier for customers to get back what they are rightly owed, without any hassle."
A spokesman for the British Bankers' Association (BBA), which represents the major UK banks, said: "Banks have increased their resources significantly to handle these complaints without delay to ensure that decisions are made as swiftly as possible.
"At the same time they are writing to customers they believe may have been mis-sold PPI policies in the past advising them of their right to complain.
"Whatever the cause, the banks are committed to resolving complaints fairly, swiftly and effectively and restoring their customer relationships."
Complaints league
On a banking brand level, the institution receiving the most complaints from customers was Barclays, with 442,266 complaints over the six months.
As a group, Lloyds Banking Group, which includes Halifax and Bank of Scotland, witnessed the most complaints.
But if PPI complaints are excluded, Santander and Barclays head the list.
In total, complaints about banking products rose by 5% to 828,040 in the first half of the year. Increasing areas of concern included savings products, credit cards and loans. However, complaints about current accounts fell by 13%.