Greece to sell stake in Opap gaming monopoly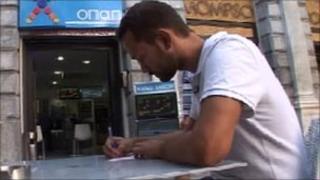 Greece has launched the sale of almost all of its 34% stake in the state-controlled gaming monopoly Opap.
The government is under pressure from its international creditors to privatise assets as part of the conditions of its bailout.
Opap is one of Europe's largest listed gambling firms. It made a net profit of 126m euros ($162m; £100m) in the first six months of the year.
The deadline for expressing interest in the 33% stake being sold is 19 October.
Opap has exclusive rights to operate 13 games of chance until 2030 and a 10-year licence to operate 35,000 video lottery terminals.
"The complete privatisation of Opap will be carried out transparently, rapidly, and with efficiency," said Opap chief executive Yiannis Emiris.
The government had previously only been planning to sell 29% of Opap.
Earlier in the month, the government said it would be imposing a 30% levy on Opap's profits until 2020, followed by a 5% levy until 2030.
Greece's privatisation programme has been criticised for being too slow.
The European Union, European Central Bank and International Monetary Fund want Greece to sell 19bn euros of state assets by 2015 as part of the conditions of its bailout.