Credit Suisse ex-trader Kareem Serageldin in court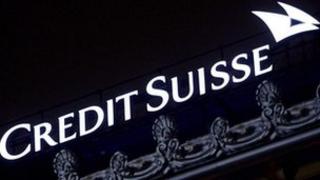 A former senior trader from Credit Suisse, Kareem Serageldin, has told a court in London that he will fight extradition to the US on fraud charges.
Mr Serageldin, a US citizen, was arrested on Wednesday in connection with a scheme to manipulate the prices of mortgage-backed securities.
Two of his former subordinates pleaded guilty in February to charges of wire fraud and falsifying books and records.
They admitted to having acted to cover up losses at Mr Serageldin's direction.
A hearing to decide Mr Serageldin's case will take place on 28 November. His bail was set at £150,000 and he will be required to wear an electronic tagging device.
Credit Suisse said Mr Serageldin and his two colleagues were dismissed in 2008.
In addition to the criminal charges, Mr Serageldin and his colleagues, David Higgs and Salmaan Siddiqui, were the subject of civil charges from the Securities and Exchange Commission (SEC).
A fourth man, Faisal Siddiqui, was also charged by the SEC, but did not receive criminal charges.
The SEC filing alleged that the "fraudulent scheme was initiated by Kareem Serageldin".
US trading desks are required to price the bonds they hold on a daily basis to record their fair value.
The traders involved specialised in bonds based on US mortgages.
The SEC said that when the value of those bonds began to decline in late 2007, they had "abandoned their obligation to accurately record the fair value of their bonds and instead began to price the bonds in a way that allowed them to achieve their goal of showing consistently profitable trading".
When Credit Suisse discovered the wrongly-priced bonds, it reported that the value of them had been overstated by $540m (£333m).