China's Sinopec shuts three subsidiaries in Guangdong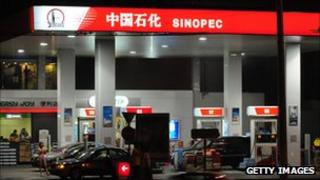 China Petroleum and Chemical (Sinopec), the largest refiner in Asia, has ordered three subsidiaries to close for environmental checks.
It affects two refineries and a petrochemical plant in Guangdong province, the company said.
It comes after Chinese state television alleged there were health and safety violations at the locations, including harmful disposal of industrial waste.
Sinopec said it would investigate the case and hold managers responsible.
China Central Television (CCTV) showed inspectors from the Ministry of Environmental Protection as well as from Guangdong's provincial environmental protection bureau expressing anger at the company for the violations.
"This is a blatant [violation]. And no one supervised [the companies] and asked them to correct [their wrongdoings] even though it was crystal clear that their pollution emissions were beyond national standards," said Zhou Quan, a senior official with the bureau, as he pounded a table.
CCTV has reported that Zhanjian Dongxing Refinery, a subsidiary of Sinopec, had dumped toxic sewage through rain drainage systems without treating it first.
CCTV alleged the plant had been ordered to shut down in May for not relocating residents in the area, but had resumed operations.
Xinzhongmei Chemical Industrial, a Sinopec joint venture, had allegedly tried to dilute toxic waste with tap water, before dumping it.
Sinopec Guangzhou Petrochemical, another subsidiary, is alleged to have illegally stored large amounts of liquid in two tanks designated for use in emergencies only, creating an environmental risk.