AngloGold Ashanti says strike in South Africa has spread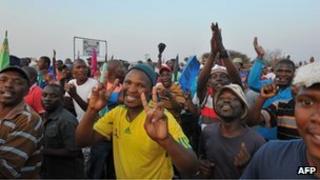 A strike at one South African mine owned by gold producer AngloGold Ashanti has now spread throughout its operations in the country, the company has said.
AngloGold said most of its 35,000 workers in South Africa were now taking part in the wildcat action over pay.
It comes after miners at platinum firm Lonmin returned to work last week following a separate strike over wages.
The dispute at Lonmin's Marikana site saw 46 people shot by the police.
An inquiry into the deaths will start on 1 October.
A second unconnected strike is continuing at another gold producer, Gold Fields.
AngloGold, the world's third-largest gold producer, said: "Workers at AngloGold Ashanti's South African operations have embarked on an unprotected strike, preventing the commencement of the night shift on 25 September."
The walkout at AngloGold started last week at its Kopanang mine. It has now spread to its Mponeng site, which is the world's deepest.
South Africa is one of the world's biggest producers of precious metals.