EADS boss Tom Enders warns against state action on deal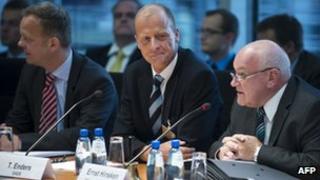 EADS boss Tom Enders has urged politicians not to interfere in the defence company's proposed $45bn (£28bn) merger with BAE Systems.
"There are many examples to prove that companies [like EADS]... should not necessarily be subject to state involvement," he said following a German parliamentary hearing.
The governments of the UK, France and Germany have to approve the deal.
But there are concerns about national security and possible job losses.
Asked whether the deal would go ahead, German Deputy Economy Minister Hans-Joachim Otto told reporters: "It is about 'if' as well as 'how'.
"It is a very complicated plan that throws up advantages and disadvantages, risks and chances."
National concerns
The French government, which owns a 15% stake in the European aerospace and defence giant EADS, is concerned about potential job losses following a merger.
And Germany, while not having any direct ownership of EADS, is considering buying some of Daimler's stake in the company through a state-owned bank. It is concerned about the impact of the deal on the value of its shareholding.
It would prefer EADS to make up a larger part of the merged entity. It prefers a 70-30 split between EADS and BAE, rather than the proposed 60-40.
EADS, which owns planemaker Airbus, employs 50,000 people at 29 sites in Germany and 133,000 worldwide.
Meanwhile, the British government, which has a golden share in BAE Systems, is concerned that the company's lucrative contracts supplying the US defence sector could be threatened if a merger with the pan-European group goes ahead.
EADS and BAE have said they will offer the British, French and German governments a golden share in the new company to allay their concerns about potential future hostile takeovers.
'More questions'
But there is some doubt about the legal validity of such arrangements under EU competition law.
Economy committee member and Green/Bundestag 90 politician Kerstin Andreae said there was no agreement on a golden share.
"More questions were left open than answered," she told Reuters. "There are disagreements between the government and Tom Enders on the question of the valuation of the golden share which could not be cleared up."
Under the merger the new company would have £60bn in sales and 220,000 employees worldwide, including 50,000 in the UK.
"We want to create a company that is internationally much more successful, that draws new investors and there are many examples to prove that companies in this sector and of this size should not necessarily be subject to state involvement," Mr Enders said after the meeting.
EADS and BAE have until 10 October to say whether they will continue with talks.