Greece seeks bailout extension at 15bn-euro cost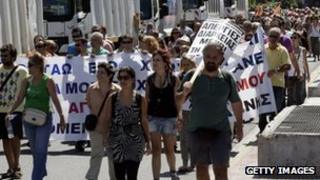 Greece has said it would need as much as 15bn euros (£12bn; $19bn) if it were given a two-year extension to its bailout.
Finance Minister Yannis Stournaras told Reuters that the funding gap could be met without more aid from the eurozone.
Greece is trying to qualify for the next 33.5bn-euro instalment of its 130bn-euro bailout, which is backed by the IMF and the other 16 euro nations.
Its neighbours are reluctant to stump up more money to help Greece.
Greece was given a 110bn-euro package in May 2010 and a further 130bn euros in October 2011.
It needs the next tranche of its bailout to make repayments on its debt burden. A default could result in the country leaving the euro.
"We estimate the funding gap that would be created if we get the two-year extension at 13-15bn euros," Mr Stournaras told the Reuters news agency.
He added that the country was 13.5bn euros short of meeting its mandated 2013 and 2014 targets.
Greek officials have previously said the country could issue short-term debt to cover the funding gap.
Inspectors from the EU, IMF and European Central Bank, known as the troika, will write a report, due in October, that will decide whether Greece receives its next instalment of bailout funds.