Consumers reluctant to increase debts, says BBA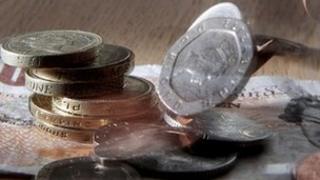 Consumers continue to be reluctant to take on more loans and are searching for better interest rates for savings, latest figures show.
Repayments on personal loans and overdrafts outstripped new borrowing by £351m in August, the British Bankers' Association (BBA) said.
Outstanding loan amounts are almost half of the peak figure in late 2007 and early 2008, the figures show.
Meanwhile, consumers are turning to Isas to improve returns on savings.
Personal deposits have risen by 5.8% in the 12 months to August, the BBA said, with strong interest from savers for cash Isas (Individual Savings Accounts) in order to gather better returns.
"People are acting conservatively in this weak economic environment, maintaining debt repayments and building up deposits," said BBA statistics director David Dooks.
Mortgage inactivity
In August, credit card customers again repaid more than they took out in new borrowing. However, credit card debt levels rose slightly owing to the interest on existing borrowing.
In the housing market, there was a slight increase in the number of mortgages approved for both house purchases and remortgaging.
However, activity remains relatively subdued, with 30,533 home loans approved for house purchases in August. That is about half the level seen in the same month in 2006 and 2007.
"The Olympics and Paralympics poured water on what little activity there was. House purchase levels were painfully low," said Martin Stewart, director of mortgage broker London Money.
"It is hard to imagine it, but activity levels are significantly down on a year ago. For a number of months now, the mortgage and property markets have been in reverse.
"The first two weeks of September were also uneventful but in the past week or so things have finally started to pick up."