Foxconn: 'Hidden dragon' out in the open
By Kabir Chibber
Business reporter, BBC News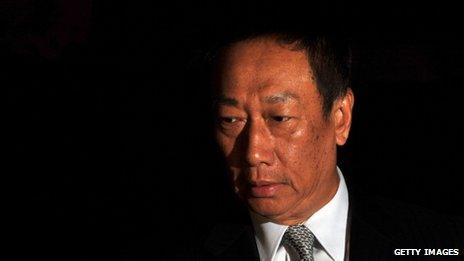 On the back of the iPhone, it says: "Designed by Apple in California. Assembled in China."
The people who assemble most of these iPhones and other bestselling Apple products like the iPad work for Foxconn, a manufacturer owned by the Taiwanese group Hon Hai Precision.
For years, Foxconn has remained low-key despite employing 800,000 workers worldwide.
Foxconn counts itself as one of a number of "hidden dragons" - huge but often obscure companies that manufacture goods, largely in China, for the world's biggest brands in electronics, clothing, toys and home appliances.
But scandals over working conditions and the growing visibility of the products it makes have thrust it into the spotlight.
Who are Foxconn and what do they do?
Foxconn is part of a many-tentacled organisation called Hon Hai Precision, and is the world's largest maker of consumer electronics.
For example, Foxconn Technology helps assemble Apple iPhone and iPads. Another subsidiary, Foxconn International, is the world's biggest contract mobile-phone maker and has nothing to do with Apple's flagship products. And Hon Hai works on cutting-edge issues like nanotechnology and material sciences.
What is now Foxconn was founded in 1974 with $7,500 (£4,624) that the founder, Terry Gou, borrowed from his mother.
The company listed in Taipei in 1991, and now it is currently worth about 1.1tn Taiwanese dollars ($37bn; £23bn).
Foxconn is not just used by Apple, but by all the biggest tech companies in the world. Some of its clients include HP, Microsoft, Nokia and Sony.
It says it has had 25,000 patents granted worldwide.
Mr Gou's firm is one of the biggest exporters out of China. One iPod-making factory in Shenzhen alone has 30,000 workers.
Mr Gou, who is averse to publicity, is the richest man in Taiwan.
He started out by making the buttons on black and white TV sets made by US firms, before moving on to supplying red-hot games maker Atari with connectors for its joysticks.
In a rare interview, he describes visiting the US for the first time, renting a limousine to visit the offices of companies like IBM and sleeping in the back of it at night to save money.
According to Bloomberg Businessweek, in his office are books containing Mr Gou's words of wisdom, such as "hungry people have an especially clear mind".
Foxconn is famous for his industrial revolution approach to manufacturing; the workers eat, sleep and live in huge dormitories adjacent to the factories where they work round-the-clock shifts. The company even provides doctors.
The plant in Shenzhen, which includes bakeries, banks and acupuncture clinics, for example, employs over 400,000 people.
Workers live in a dorm with seven strangers, performing the same task six days a week.
But the gulf between the beauty of the products Foxconn makes and the conditions it takes to make them were exposed quite brutally when a spate of deaths hit the firm.
Thirteen Chinese employees committed suicide at Foxconn or related plants in 2010, shining a spotlight on working conditions in China and drawing attention to growing labour strikes.
In the same year, Foxconn had to shut down a factory in India temporarily when 250 workers fell sick. And in May 2011, two people were killed after an explosion at a Foxconn plant in Chengdu.
Foxconn said its working conditions were not responsible for the death, and was initially dismissive of the suicides.
But it soon responded to the worldwide media attention by raising wages, shortened working hours and installed counsellors on site. It also installed suicide nets to factory living-quarters at its Shenzhen factory.
And Apple sent independent inspectors from the US Fair Labor Association to audit their facilities, who found "significant issues" among working practices there.
Apple said it "fully accepted" the report's conclusions.
Despite being a lightning rod for criticism, Foxconn is regarded as one of China's better employers by many Chinese labour rights groups, paying workers on time and for all the overtime.
The starting salary at its Shenzhen plant - which employs the bulk of its workers - is 1,800 yuan, compared with a minimum wage of 1,500 yuan in the city.
The monthly wage increases to 2,200 yuan after a probation period, and more if overtime is included.
Because of its high-profile link with Apple, the company has come in for greater scrutiny than many others who are in similar export-oriented industries.
In 2011, Hon Hai's shares fell 22%. That is on top of its 13% drop from the year before.
But its shares are up 27% this year, partially boosted by demand for Apple's latest phone.
To cope with rising wages, Foxconn is moving production to China's inland provinces amid double-digit increases in wages in the coastal provinces known as the Pearl River Delta.
Will this and its new worker safety measures address the issues behind the continuing worker unrest? Only time with tell.
Related Internet Links
The BBC is not responsible for the content of external sites.