Apple seeks $707m more in damages from Samsung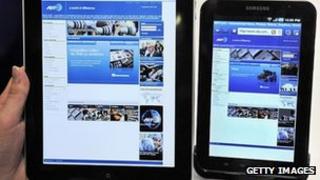 Apple is seeking an additional $707m (£436m) in damages from Samsung Electronics, after a US jury awarded the iPhone and iPad maker more than $1bn.
The trial, which ended on 24 August, found that devices made by Samsung had infringed software and design patents held by Apple.
On Friday Samsung also asked for an entirely new trial.
The two companies are locked in legal battles in several countries.
Higher payout
During a court hearing on Friday Apple asked for a bigger payout, saying that Samsung has caused irreversible "damage to the iPhone's distinctive product identity'.
It also said: "Samsung has reaped extraordinary rewards from its wrongful sale of iPhone and iPad clones by taking market share, revenues, and profits from Apple."
Also on Friday Samsung argued for a new trial saying it had not been treated fairly in the previous proceedings.
"The Court's constraints on trial time, witnesses and exhibits were unprecedented for a patent case of this complexity and magnitude, and prevented Samsung from presenting a full and fair case in response to Apple's many claims," lawyers for the company claimed in court documents.
The US case was widely seen as one of the most significant of the patent battles between consumer electronics manufacturers, mainly because it involved some of the biggest claims for compensation for damages.