Petrol prices: Do supermarket vouchers save us money?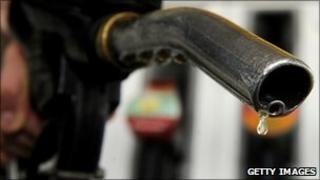 Filling a vehicle at the petrol pump can be an expensive business, so it will be a surprise to many that a price war is going on.
As a motorist, where is the cheapest place to get a full tank?
Many drivers would suggest that the supermarket is the best place to go. Fuel can be four to six pence per litre cheaper than roadside petrol stations.
Supermarkets use low prices to draw customers in.
At Morrisons, for instance, fuel discount vouchers are being offered to shoppers. For every £10 spent in the store, shoppers get a penny off fuel. So, by spending £50, a customer would get a 5p a litre discount.
Spend more and the discount gets bigger.
"Our customers are telling us that expenditure on fuel is one of the things they cannot avoid," says Richard Taylor, spokesman for Morrisons.
"Increasingly many are planning their expenditure in advance."
Value for money?
But drivers looking for the best way to spend their money might find this is not necessarily the best option.
For example, someone who wants to buy a laptop from a supermarket and use the vouchers to save money on petrol would compare the laptop's price with internet prices.
If it is cheaper online, that may eat away any savings they thought they would get from cheaper fuel.
In addition, a motorist who has to drive six miles to get to the supermarket might save 4p a litre but, after driving six miles back home, might find that no money has been saved.
Factor in other costs, like depreciation, tyre wear and tear, and motorists might find they need to fill their tanks to the brim in order to make a saving.
All that maths could be a headache for customers. So what do money experts advise when it comes to filling up your car?
"If you happen to be at a supermarket that has cheap petrol, then fill up there but do not let the tail wag the dog. Do not go there just to fill up," says Jasmine Birtles, of financial website Money Magpie.
"Start online and have a look at websites to find the cheapest petrol stations in your area," she says.
"Try and fill up at least 50 miles before the end of your journey so that you have a chance to fill up on the way to something else."
Review
Still, customers notice when the figures on the forecourt look lower. In order to compete, many independent petrol stations are cutting prices too. That is forcing them out of business, an industry body says.
"There is a point in two or three years' time, if the rate of closures continues, when people will have to travel much further to fill up," says Brian Madderson, chairman of the Petrol Retailers' Association.
"Many parts of Britain are now akin to rural fuel deserts where people are having to travel up to 20 miles just to fill up their car."
It is a complex business, so much so that the Office of Fair Trading recently called for more information from the industry about petrol pricing.
It seems the regulator, like customers, needs to know more to find the best way to fill up at the pump.