Madoff fraud 'failed to give investors a lesson'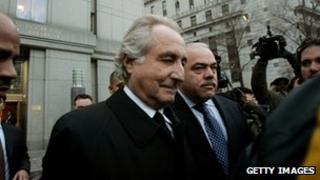 Investors are still putting money into schemes similar to the one touted by Bernard Madoff, according to a lawyer responsible for recouping losses for victims of the disgraced financier.
David Sheehan also said more qualified regulators - not new rules - were needed to enforce proper regulation in order protect investors.
Madoff's victims were compensated by another $2.5bn (£1.5bn) on Thursday.
Investors lost $17.3bn from the fraud, of which 58% has been recovered.
"I don't think that people have learnt from the fact that someone like Bernie Madoff and others have created these schemes that people bought into," Mr Sheehan told the BBC's Today programme.
"It's safe to say that today there are people investing in what are ultimately going to prove to be Ponzi schemes and for whatever reason they think it's going to be OK. And ultimately they will pay the price," he added.
After a similar fraud to Madoff, former tycoon Allen Stanford was jailed in June for 110 years for operating a Ponzi scheme that defrauded investors of more than $7bn.
Mr Sheehan said that more competent and "astute" regulators were needed - not new regulations - to pinpoint possibly fraudulent financial schemes and nip them in the bud.
"When the people went in to look into Mr Madoff over the years unfortunately what they sent were young people, who were new to the industry. And we suffered from that."
"I would like to think that the only way we can protect ourselves against this is having the right cadre of regulators in place and hopefully somewhere along the lines people realise we don't need more regulations. What we need is people who have a capability of enforcing them," he said.
He also pointed a finger to big banks and financial institutions for their possible involvement in Madoff's fraud: "You could not have a Ponzi scheme of this magnitude without having quite frankly a major bank involved who is assisting you in dealing with the volume of dollars - billions and billions of dollars."
Madoff is serving a 150-year prison sentence.