HMV sales continue to fall sharply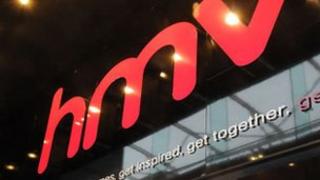 Troubled music, films and games retailer HMV has reported a further sharp fall in sales, citing the lack of new releases over the summer.
Same-store sales at its HMV Retail business fell by 11.6% in the 20 weeks to 15 September, the firm said.
Sales of portable technological devices grew strongly, but its core business of music, DVD and games saw "significant market value declines".
However, HMV said strong releases ahead of Christmas should help trade.
"These numbers reflect the challenging markets in which we operate," said chief executive Trevor Moore, who took over the role earlier this month.
"However, the like-for-like decline was less marked towards the end of the period and we should be helped in the remainder of the year by a strong pipeline of new releases in the music, DVD and games markets ahead of Christmas."
Including the effect of previously announced store closures, total sales across the group fell by 14.8% in the 20 week period.
HMV faces stiff competition, particularly from music downloads which have led to sharp fall in the sales of CDs.
Last month, it reported an annual loss of £38.6m for the year to April, but it has said it expects to return to profitability in the current financial year.