AU Optronics gets $500m fine in US for LCD price fixing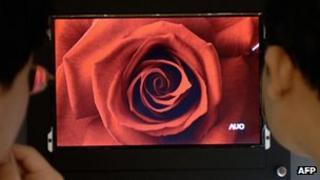 AU Optronics, one of Taiwan's biggest flat screen makers, has been fined $500m (£300m) by a US court for fixing prices of liquid crystal display (LCD) panels.
Two senior executives of the firm have also been sentenced to three years in prison and fined $200,000 each.
The firm has been accused of colluding with rival manufacturers to keep the prices of LCD panels high.
The fines are among the highest levied by US authorities for price fixing.
"This was a documented, far-reaching, clearly illegal conspiracy to fix pricing," Judge Susan Illston said.
"That's why I find that $500m is adequate but not excessive."
'Not enough'
US authorities had made a series of moves against various electronics makers over claims of LCD price fixing.
Last year, seven LCD makers, including South Korea's Samsung, paid $553m (£357m) to settle such claims.
However, AU Optronics had denied the allegations and decided to contest the claims.
The prosecutors had asked for a fine of $1bn against the Taiwanese firm after it was found guilty by a US court.
Heather Tewksbury, the attorney for US Department of Justice antitrust division, argued that the fine was not adequate.
"$500m is not enough to deter cartels like this from forming," she said. "AU Optronics is getting a 50% discount and that's an inequitable result."
Meanwhile, AU Optronics has said that it intends to lodge an appeal against the judgement.
"The trial demonstrates that there are certain important, yet unresolved, legal questions surrounding this matter," the firm said in a statement.