Fears for tenants as rental costs rise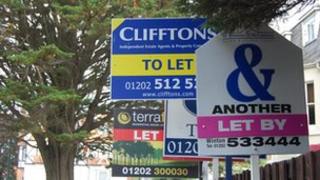 A charity has called for more security for tenants, as a survey suggests that the cost of renting rose to a record high in August.
The average cost rose to £734 a month on average in England and Wales, up 2.9% on a year earlier, LSL Property Services said.
August was the fifth month in a row that rents had risen for "frustrated buyers", it said.
Charity Shelter said that landlords should offer long-term contracts.
It said that five-year tenancies should be used to reassure families and allow them to turn "rented houses into homes".
"With a generation priced out of home ownership, renting is the only choice for growing numbers of people," said Shelter chief executive Campbell Robb.
"But with the possibility of eviction with just two months' notice, and constant worries about when the next rent rise will hit, the current rental market is not giving people - particularly families - the stability they need to put down roots.
"The Stable Rental Contract offers renters the stability of a five-year tenancy and gives landlords more confidence in a steady income, all within the existing legal framework."
He added that the contracts should still allow landlords to evict bad tenants, or to sell up, and offer tenants the chance to leave if they gave two months' notice.
Regional records
Earlier in the week, the Council of Mortgage Lenders said that the market for buying and selling homes remained flat, echoing the UK economy.
Separate figures from HM Revenue and Customs (HMRC) showed that there were 77,000 residential sales in the UK in August, up slightly on the previous two months.
However, this was about half the level of the peak in transactions in late 2006 and early 2007.
The LSL report shows that costs for tenants have been rising. The average rent in August was 1.2% higher than in July.
The property group, which owns Your Move and Reeds Rains, said that summer was peak season for the rental market, as many new graduates were starting jobs. This added demand on top of those already renting while looking to buy a home.
On a regional basis, five areas - London, the South East of England, the East of England, the North West of England, as well as Yorkshire and the Humber - all recorded record high rent levels, according to the survey.
The proportion of those in rental properties who were behind with payments to landlords fell slightly to 9% at the end of August, LSL said.
The LSL survey is based on a survey of 18,000 properties from LSL records.
Concerns have been raised by the government's principal adviser on statistics about the lack of figures on the rental market.
National Statistician Jil Matheson said that the absence of a UK-wide official private rental index was a "key gap" in data on the housing market.
"Good quality statistics are essential for making informed decisions on housing, from central government planning to private individuals deciding whether to move, rent or buy," she said.