Bangalore bids to be India's aerospace hub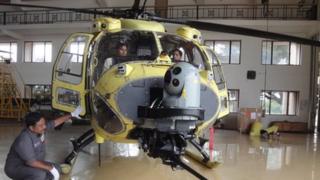 A crowd of workers looks on proudly as a tractor tows a military helicopter across a huge field near Bangalore, in the Indian state of Karnataka.
This is the Rudra - one of the modern fighter aircraft produced at Hindustan Aeronautics Limited (Hal), India's oldest and largest aircraft manufacturer.
The helicopter has been fitted with technology including laser rangefinder and thermal vision to enable the detection of targets in all weather conditions.
Armed with 70mm rockets, anti-tank guided missiles and air-to-air missiles, it is expected to play a major role in India's military industry.
Hal is state-owned and the major supplier to the country's armed forces. In the past 60 years, it has built more than 3,500 aircraft.
Hal has also helped to build an aerospace industry in and around Bangalore, where more than a quarter of India's air and spacecraft are produced.
Now the local authorities are hoping to attract more investment to turn the area into India's aerospace hub.
"Karnataka has its advantages - skilled manpower and engineering talent, and a lot of the supplier base is located here," says Karnataka's investment commissioner Maheshwar Rao.
National Aerospace Laboratories, Defence Research and Development Organisation and the Indian Space Research Organisation all have their offices in Bangalore. Leading private companies such as Boeing, Airbus, Honeywell and GE Aviation are also based in this city of 8.5 million people.
Offset policy
But despite its strong production base, India is one of the biggest importers of defence equipment in the world.
However, the game-changer, specifically for the state of Karnataka, could be the country's strong offset policy, which requires every international company selling to India to plough back significant investment here.
That means that foreign firms have to find partners in both large and small-scale enterprises.
With nearly 80% of the offsets being in the aerospace sector, the local industry looks set for a boom.
For example, in 2009 the Indian government signed a contract with Boeing to purchase eight P-8I long-range maritime reconnaissance and anti-submarine aircraft.
The delivery of the first aircraft is scheduled for 2013, but the project has already brought in business for a number of Indian suppliers.
Local firm Dynamatic Technologies, which has invested in the state's future aerospace park, says firms need to ensure they comply with high standards of manufacturing to fully benefit from offsets.
The company's chief executive, Udayant Malhoutra, says the workforce has to be very skilled, and local firms need to have certifications that are often difficult to get.
Once they establish themselves in Bangalore, these companies have an opportunity to work with global customers such as Boeing and Airbus.
This is something public-sector defence companies such as Hal are already doing - the Indian Air Force recently ordered 20 more Hawk Advanced Jet Trainer aircraft from Britain's BAE Systems.
With the offsets policy, these aircraft are now assembled in India.
India is also finalising a $10bn (£6bn) deal for 126 medium multi-role combat aircraft. The company that will get the deal will have to partner with Hal to make the jets.
As more and more global firms come to the country, it is estimated that nearly 75% of aerospace business will come out of Karnataka in future.
Whether as a low-cost manufacturing hub or as a hi-tech design centre for the world, the state seems to be ready to take off.