US manufacturing growth 'modest', PMI survey shows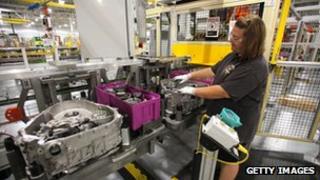 Growth in the US manufacturing sector remained "modest" during September, according to a closely-watched survey.
The Markit Flash US Manufacturing Purchasing Managers' Index (PMI) was unchanged from August's figure of 51.5. A reading above 50 implies growth.
While manufacturing output continued to rise, "growth was only marginal and the weakest for three years", Markit said.
Input price inflation reached a four-month high, the survey found, but there was a slight increase in employment.
New domestic orders continued to rise, but the number of export orders experienced its steepest fall since October 2011.
The index score for new export orders was 47.9, down from 48.8 in August, reflecting poor economic data from China and the eurozone.
Earlier on Thursday, separate PMI surveys indicated that China's manufacturing sector declined for the 11th month in a row in September, although the rate of decline slowed.
Meanwhile activity among eurozone firms suffered its steepest contraction since June 2009, the PMI survey for the region found.
Stimulus measures
The PMI data follows earlier reports from the US Labor Department that initial claims for state unemployment benefits fell by 3,000 last week to a seasonally-adjusted figure of 382,000.
The four-week moving average of new claims rose by 2,000 to 377,750, its highest level since June.
The Federal Reserve, led by Ben Bernanke, recently announced another round of quantitative easing to help stimulate the US economy.
It intends to buy $40bn (£24.7bn) worth of mortgage-backed securities every month until the jobs market recovers.
The US unemployment rate has been over 8% for three years and currently stands at 8.1%.