Spanish bond auction sees lower borrowing costs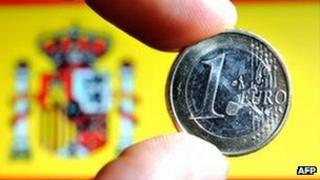 Spain's borrowing costs eased at the country's latest bond auction where it raised 4.8bn euros (£3.84bn) after selling three and 10-year bonds.
There was strong demand for the 10-year bonds, with investors bidding for nearly three times the amount on offer.
The average yield was 5.66%, down from 6.65% at the previous auction, and below the 5.95% average for the year.
The government's borrowing costs have fallen since the European Central Bank announced its bond-buying plan.
"Overall the auctions today were taken comfortably," said Nick Stamenkovic of Ria Capital Markets, "but a sustainable decline in yields really depends on the Spanish government coming up to the plate and asking for a sovereign bailout."
Investors bid for 1.6 times the amount of three-year bonds on offer, with an average yield of 3.85%, slightly higher than the year average of 3.82%.
This auction follows an earlier round of fundraising on Tuesday, when the Spanish government raised 4.6bn euros in 12- and 18-month loans on the bond markets.
On 6 September, ECB president Mario Draghi unveiled details of a bond-buying plan aimed at easing the eurozone's debt crisis.
Under the plan, the ECB would agree to buy a potentially unlimited amount of bonds of debt-stricken eurozone members on the condition that these countries made a formal request for bailout funds and stuck to the terms of any deal.
The German Bundesbank remains opposed to the idea.