Retail sales hurt by Olympics in August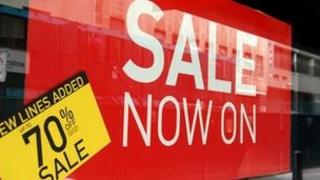 Retail sales in the UK fell during in August as people put off shopping to watch the Olympics, figures show.
Sales fell 0.2% in August from July, according to the Office for National Statistics (ONS).
The ONS said the decline was driven by a fall in online sales, as consumers watched the Olympics instead of shopping on the internet.
However, sporting goods and toy stores saw a sales boost from the Olympics and the new football season.
Compared with a year earlier, sales volumes rose by 2.7% in August, said the ONS.
Online retail sales in August accounted for 8.1% of total retail sales excluding automotive fuel, a fall from the 9.0% recorded in July. It was also the lowest proportion in a year, it said.
Analysts said the weak overall sales figure underlined persistent worries over the strength of the economy. Markets had been expecting a fall of 0.4%.
"August's UK retail sales figures add to the evidence that the Olympics did not provide the hoped-for boost to spending on the High Street," said Samuel Tombs, UK economist at Capital Economics.
Separately, online grocer Ocado said that the Olympics and the Queen's Diamond Jubilee had hit third-quarter sales, with sales growing by 9.9% to £162.6m in the three months to 5 August. That compared to a first-half rise of 12%, it said. Ocado shares fell 1.3% in Thursday morning trading.
'Further falls'
The British Chambers of Commerce said the smaller-than-expected monthly fall and the year-on-year increase in retail sales supported their view that GDP would return to positive growth in the third quarter, although the pace of recovery would remain modest.
"While official estimates of a recession since the end of last year may be too pessimistic, the economy is stagnating and growth is far too weak," it said.
"The government needs to take action, implementing policies that will support growth, empowering private sector businesses to create jobs, invest and export, while the public sector continues to shrink."
Some of the weaker spending in August could be a result of a 2.5% monthly rise in petrol prices last month that squeezed discretionary spending, analysts suggested.
On top of that, August's fall in retail sales could simply reflect lower spending in High Streets, while hotels and restaurants might have fared better during the Games, according to Mr Tombs.
"And even after this drop, retail sales were still 0.6% higher than three months ago, suggesting that they are likely to contribute to a brief return to positive GDP growth in the third quarter," he said.
"Nonetheless, with consumer confidence still very weak and inflation set to outpace earnings growth for another six months or so, we would not be surprised to see further falls in retail sales in the coming months."