Ex-CME worker admits US data theft to help China rival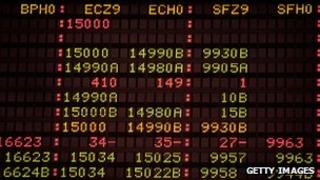 Chunlai Yang, a former programmer for CME Group, the largest US futures exchange operator, has admitted to stealing trade secrets from the firm.
He pleaded guilty to downloading CME's computer codes to help boost trading speeds and volumes at a Chinese exchange.
The US government said the potential loss from the theft was between $50m-$100m (£30m-£60m).
Mr Yang, a Chinese national who has US citizenship, faces 10 years in jail.
"Trade secret theft is a serious economic crime that affects the interests of corporations, as well as our national interest, in protecting intellectual property," said Gary Shapiro, acting United States Attorney for the Northern District of Illinois.
'Confidential business property'
Mr Yang also admitted that he had planned to set up his own firm, along with two partners, to work to help improve the functioning of the Zhangjiagang Exchange in China.
It its report, the US Department of Justice said that Mr Yang had downloaded more than 10,000 files containing sources codes from CME.
"The source code and algorithms that made up the supporting programs were proprietary and confidential business property of CME Group," the report said.
It said that Mr Yang had planned to use these codes to help set up multiple trading functions for the Chinese exchange.
Such a move was expected to help provide the exchange's customers with more ways of placing orders, thus increasing the trade volumes and boosting profits.