EADS boss says serious work needed to pass BAE deal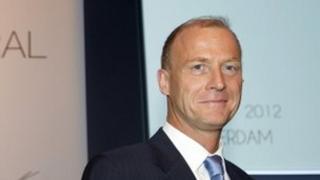 The chief executive of EADS has said its proposed tie-up with BAE Systems represents a "perfect fit" but that there is "serious work" ahead to convince investors of its value.
Tom Enders' thoughts were given in a letter to 136,000 EADS employees, including 17,000 in the UK.
Politicians are also looking closely at the planned merger, which would create the world's largest defence company.
On Monday, France's finance minister said the idea needed close scrutiny.
Pierre Moscovici said the tie-up raised a lot of questions over strategic interests and "industrial effects".
In his letter, Mr Enders said that "governance and national security interests are currently the focus of our work".
"We are currently in constructive and advanced discussions with all relevant governments and are trying to accommodate their concerns and national security interests..."
Struggle
But Mr Enders acknowledged there may be a struggle ahead to get support for the deal: "No doubt, we have some serious work to do - and that goes particularly for our investor relations teams - to convince shareholders and investors that we are on track to build a stronger growth platform."
He said the discussions with BAE Systems were "not the result of top management gone haywire".
The announcement of the deal sparked a rise in BAE's share price but a fall in EADS's.
Mr Enders said this was simply because investors had been "taken by surprise".
The letter said the proposal would enable the firm to reach its goals seven years earlier than planned.
One of these is to increase its global markets.
But he implied there were unlikely to be job losses as a result of a successful tie-up.
In terms of the impact on staff and sites he said the two companies were "largely complimentary and have very little overlap".
But he said that in the defence industry, internationalisation "is a must", something that combining with BAE Systems - which he called the world's most international defence company - would provide.
He finished by saying that while there had been some critical reactions to the deal "word will soon go around, that this deal makes good business sense".
Under the code of the UK's Takeover Panel, the deadline to finalise the details of the deal is 17:00 BST on 10 October.