US home sales rise to two-year high in August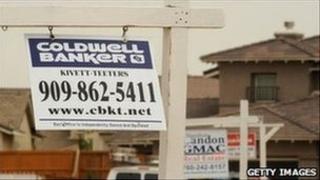 Sales of previously owned US homes reached their highest level for more than two years in August, figures show.
Prices for such homes also rose, according to figures from the National Association of Realtors (NAR).
The figures added to the picture of an improving US housing market, although the number of first-time buyers fell back from 34% to 31%.
Earlier, figures from the US Commerce Department showed new house building had also risen between July and August.
Seasonally adjusted home sales were running at an annual rate of 4.82 million last month, according to the NAR.
That is the biggest number since May 2010, when sales were boosted by a federal home-buying tax credit.
However, the figure is still below the 5.5 million units a year level seen as consistent with a healthy housing market.
Steady recovery
The average price of a resold home rose by 9.5% from August 2011 to $187,400, with fewer people forced to sell, the biggest increase since January in the boom year of 2006.
The percentage of home sales by distressed sellers was 22%, down from 31% a year ago.
The number of homes on the market rose by 2.9% from July to 2.47 million.
NAR's chief economist, Lawrence Yun, said conditions in the market were good.
"The housing market is steadily recovering with consistent increases in both home sales and median prices," he said.
"Inventories in many parts of the country are broadly balanced, favouring neither sellers nor buyers."
He added that in the west of the United States and in the state of Florida there were shortages of houses for sale and prices there were rising faster than elsewhere