Workers turn away from pensions, ONS data shows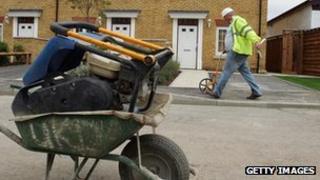 The number of people actively paying into a workplace pension scheme dropped for a third consecutive year in 2011, official figures show.
Some 8.2 million people were active members of pension schemes at work, down from 8.3 million the previous year, the Office for National Statistics said (ONS).
The fall came from a dip in membership in the private sector.
However, the figures are expected to pick up as a new pension policy starts.
A policy of automatic enrolment will be phased in from October that will see workers signed up to a workplace pension scheme, unless they opt out.
The government hopes that the policy - one of the biggest ever changes in the UK pension landscape - will encourage more people to save for their old age.
Fewer options
Among those who paid into an occupational pension scheme in 2011 were 5.3 million public sector workers and 2.9 million people in the private sector.
Over the previous 20 years, the number of workers in the public sector who actively paid into schemes has risen by more than a million.
This is in stark contrast to the private sector, which has seen a fall in active membership of more than three million over the same period.
The ONS said that this drop reflected the downturn in the number of defined benefit, or final-salary, schemes that were being used for pension saving.
This type of deal, which gives guaranteed pension based on earnings at end of a worker's career and length of service, has been withdrawn for new and existing staff by numerous private sector employers.
All the public sector schemes offer more generous, salary linked pensions. Public sector employers also contribute at more than double the rate of their private sector counterparts.
About a third of those in the private sector who save in a workplace pension do so into a final-salary scheme, the figures show.
"The ongoing slide in pensions uptake in the private sector is deeply worrying. Our society is not saving enough for its old age and millions of workers are set to end up scraping by on just the state pension," said Joanne Segars, chief executive of the National Association of Pension Funds.
"The decline of final-salary pensions in the private sector is one factor behind this fall, but squeezed household budgets and the weak economy mean that many people see a pension as a luxury rather than a necessity.
"Auto-enrolment is a hugely important reform that will bring millions of people into a workplace pension, many for the first time. It is crucial that people recognise the importance of building up some savings for their retirement."
Campaign
The Department for Work and Pensions (DWP) believes that the new automatic enrolment system will see an extra 11 million people saving into a workplace pension scheme.
Only staff at the largest businesses will be in the first wave of the new system, but by 2018 nearly all workers will be signed up to the new system.
Staff, who are not already part of a workplace pension scheme, will see part of their wages automatically diverted to pension savings.
The DWP has just launched an advertising campaign, featuring stars of BBC's Dragons' Den and The Apprentice, Theo Paphitis and Karren Brady, to outline the new system.
A number of surveys have suggested that public awareness of automatic enrolment remains low.