Newbury Racecourse sells part of land for housing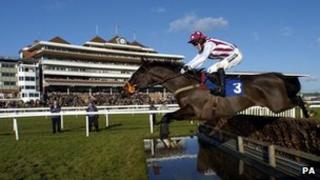 The owners of Newbury Racecourse have sold part of the land to property developers who intend to build 1,500 homes over the next 10 years.
Newbury Racecourse plc has sold land on its western, central and eastern sites to David Wilson Homes, part of Barratt.
David Wilson will pay "a minimum of £42.6m for the land", with the proceeds funding new racecourse facilities.
The company said it expected housebuilding to start this year, with homes going on sale in mid-2013.
The sale is intended to fund a major upgrade of the Berkshire racecourse.
Facilities for horses to be bred and cared for inside the racecourse grounds, including a new facility to house stable staff, new stables, a new paddock and improved facilities for owners and trainers are to be discussed by the board.
Newbury Racecourse has estimated that its improvement plans will cost up to £12m, with works commencing - if funding is in place - in 2014 and 2015.
As part of the sale, David Wilson will pay £5.1m up front, with most of the balance near the end of the decade-long project.
Newbury Racecourse hopes raise more money from investors on the back of the proceeds from David Wilson.
Consultation with the local community on the plans will continue through the Newbury Racecourse Public Liaison Group.
The owners of the racecourse have said that they want it to be profitable all year round, not just when major events are held.
Dominic Burke, chairman of Newbury Racecourse, said that the sale was "a key stage in our long term strategy of releasing value from our land assets to develop the facilities and infrastructure of the racecourse".
About 30% of the homes to be built are intended to be affordable and shared-equity properties.