Bank of Japan increases asset purchase programme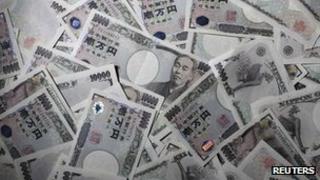 The Bank of Japan (BoJ) has extended its asset purchasing programme by 10 trillion yen ($126bn; £78bn), following similar moves by the Federal Reserve and the European Central Bank.
The move, aimed at boosting the economy, increases the overall size of the stimulus programme to 80tn yen.
Although the increase had been anticipated by some analysts, many were surprised by the size of it.
Finance Minister Jun Azumi said the BoJ "took more action than we anticipated".
Under the asset purchasing programme the central bank buys bonds in order to keep the long-term cost of borrowing down.
The BoJ also left interest rates unchanged at between zero and 0.1%.
Delayed recovery
Recent data showed that Japan's exports and industrial output both slumped in July.
The central bank now expects economic activity in Japan "to level off more or less".
BoJ governor Masaaki Shirakawa said the bank had downgraded Japan's economic view and decided to expand monetary easing because "overseas economies are slowing more than we anticipated".
As a result, Japan's economic recovery could be delayed by about half a year, he told a news conference after the decision.
The market responded positively to the bank's move, with the Nikkei 225 index rising to a four-month high, while the yen fell against both the dollar and the euro.
The yen has strengthened in recent weeks, hurting Japan's export-led economy.
"This is a positive for the economy in the sense that it prevents the yen from rising," said Hiroaku Muto, senior economist at Sumitomo Mitsui Asset Management.
"But capital expenditure and the domestic economy won't pick up until Europe's crisis abates and the US economy stabilises."