Japan Airlines re-lists on the Tokyo Stock Exchange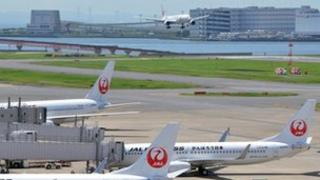 Japan Airlines shares rose modestly on its re-listing on the Tokyo Stock Exchange, more than two years after it filed for bankruptcy in one of Japan's biggest corporate failures.
JAL shares climbed 1%, trading at 3,830 yen up from 3,790 yen.
The 663bn yen ($8.5bn; £5.2bn) initial public offering comes after the airline was given a government-backed bail out in 2010.
It is the second biggest share sale this year globally after Facebook.
Turnaround
Japan airlines was de-listed from the stock exchanged after becoming insolvent. Since then it has carried out huge restructuring, cutting more than a third of its workforce, cancelling unprofitable routes and replacing older planes.
In August, JAL announced that net profit had doubled in the April to June period, compared with the previous year.
It was even recently called the world's most profitable airline after record operating profits.
Analysts said that while corporate investors that previously owned shares might be hesitant, the strong numbers would entice new buyers.
"The past owner would be little bit hesitant to buy Japan Airlines shares because they have made losses," said Yuuki Sakurai from Fukoku Capital Management.
"But if this is a new buyer on the corporate side, they would be interested to see how successful Japan Airlines will be."
Mr Sakurai also said individual investors may be enticed by discount coupons given to buyers which can be used to purchase seats on flights.
'Fierce competition'
However, the outlook for coming months remains uncertain for JAL, which could dent demand for its stock.
"There are some clouds over the future of Japan Airlines including the increasing personnel cost and the present dispute between Japan and China," said Yuuki Sakurai referring to political tension between the two countries over disputed islands in the East China Sea.
JAL also faces tough competition in its domestic market from low-cost carriers. Japan is also a mature aviation market with not too much room for growth.
"Low-cost carriers have a larger market share now and competition is fiercer. It's unclear whether (JAL) can maintain their current level of profit or not," said Masato Futoi from Tokai Tokyo Securities.